Proven And Effective Online Marketing Strategies
The Internet has completely changed the rules on how products are bought and sold to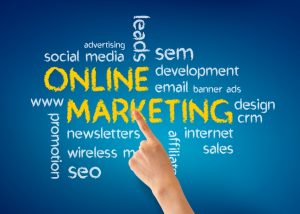 consumers around the world and entrepreneurs have to be aware how online marketing strategies are changing.
Online marketing strategies are ever changing, and entrepreneurs need to change with the times. What worked in the past may not be so effective in the future. Think of it like taking a journey. You may have taken the same road many times before and arrived at your destination successfully. However, if for some reason there are road works and road closures along the way, you will need to change your route.
Trying to go the way you used to go will result in frustration, difficulties, and lost revenue. This is what can happen to an entrepreneur relies on outdated and ineffective online marketing strategies. Here are the 10 online marketing strategies that you need to use in your internet business to stay ahead of your competition and succeed online.
10 Online Marketing Strategies To Start Using Today 
1. Provide High Quality Content
Your website, emails, articles, blog posts, videos and all other forms of communication must provide high quality content that is beneficial to your target audience. If content is of high quality, people will come to know, like and trust you and will be more inclined to share it, use it and buy from you. So spend enough time preparing content, which engages people.
2. Be Consistent 
You must regularly update your content. Quality content is one thing, but you also need to post regularly on social media and on your website by writing a blog. This will keep people coming back for more.
3. Diversify 
You must diversify. This means not just using one or two online marketing techniques. Use both free website traffic and paid online marketing methods to drive potential customers to your website and sales pages. Every piece of content that is published is one more way that the search engines will find you.
4. Use Social Media 
Even if you don't use social media, your customers do. Your customers are using social media platforms like Facebook, Twitter, LinkedIn, Instagram and Pinterest. If you don't know much about social media, invest time in some social media marketing training online.  Don't forget to post regularly and make sure that the content is of high quality. Remember to research your audience as not all social media platforms work for every audience.
FREE Checklist: Get More Free Website Traffic

5. Use Images
You must use images. Image-based content is becoming more and more popular to share. Pictures and images add value to your written content. Use also infographics which combine graaphics and text to make a point.
6. Don't Sacrifice Quality For Quantity
You must remember quality and quantity in your online marketing plan. Never sacrifice one for the other. There needs to be a balance of both quality and quantity. This is particularly relevant to email marketing. Email marketing is one of the most effective online marketing strategies when done correctly. As long as you provide value in your emails, your subscribers will want to open and read your emails. But if you just constantly send information that has little or no value, your emails wil just be ingores.
7. Marketing Is A Two-Way Relationship
Your online marketing strategies are not just ways to bombard your customers with opportunities to buy. Marketing is a two-way relationship, which involves the business and the consumer. Offer information, training, advice, and the possibility to engage.
8. Keep It Simple
You must use less to get more. People don't like spending a lot of time examining a web page to try to decipher the message. More and more companies are taking a simplistic approach with their online marketing strategies. This is seen as a way to draw, not push, people in.
9. Make Yourself Available 
The internet can be an impersonal environment and it's easy to hide behind a website. Make it easy for people to contact you and always include an 'About Me' section on your website so that people can see that you are a real person.
10. Keep Yourself Updated 
You must be prepared to develop new online marketing strategies. The way that people respond to online marketing is constantly changing. Therefore, you need to keep up-to-date on what is trending. Even with established online marketing platforms, campaigns can be altered, changed, and adapted.
Quickly Learn All The Online Marketing Strategies You'll Ever Need
It's vitally important to keep your internet marketing skills up to date. These 10 online marketing strategies will help you to increase the size of your audience, engage with more of your audience and grow your sales. But the biggest hurdle with internet marketing training is usually trying to find time to read, watch or listen to long tutorial sessions.
That's why Grovo, the world's leading digital skills platform provides short, smartly-engineered online digital marketing courses that are proven to command attention and generate retention. Each session is broken down into short 2 to 3 minutes segments which makes it easy to fit into your busy day.
This internet marketing training is usually only available to corporate customers. But you can get instant access to the Grovo training via the Six Figure Mentors digital marketing platform. Access these micro-learning digital nibbles for only $25 a month when you click the Special One Time Offer Box on this page. You can cancel any time when you're done, when you choose, or when you feel your online marketing strategies and skills are up to date.