How To Use Online Marketing Strategies For Small Business
It's very unlikely that you'll build a profitable online business without marketing. You may have the best website in the world, but if nobody knows it exists you'll never sell anything from it.

Different marketing techniques come and go on the internet all the time but when you're running an online business you do need to depend on the online marketing strategies that will stand the test of time.
The main reason that many people struggle with online marketing is they get overwhelmed with information. But there are ways that you can market your online business simply and effectively to build brand awareness, get more traffic, and start making more money.
10 Online Marketing Strategies
1. Know Your Audience
It's imperative that you study your audience so that you know the people who need your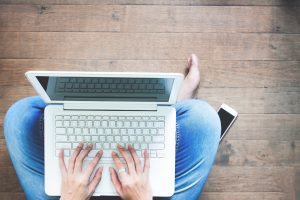 products. If you don't know the problems and pain points of your audience, it's hard to create solutions. And it's even harder to market the solutions once you have created them if you don't know the audience – including where they hang out and who they are.
Create an audience persona based on where your audience is in their buying cycle so that you can address people properly in every funnel you create.
FREE Checklist: Common Business Mistakes You MUST Avoid

2. Understand Your Product's Benefits
What benefits does your product or service offer to your buyers? You must be able to communicate these benefits and how they help the user in a way that resonates with them in all your marketing messages – before, during, and after purchase.
3. Build a Responsive Website
Today you must go with a "mobile first" strategy when it comes to building a website. A website needs to work on all devices and consider that most people are using mobile to access email, read websites, and make purchases today. It has to work on both a desktop computer and a mobile but put mobile first.
4. Set Up Social Media Platform Profiles
When you study your audience, part of that involves knowing where they like to get their information. Whether it's your competition or not, you should be where they are so that they'll notice you. Set up social profiles on these social media platforms, link to them from your website and from your email signature, and cross-promote each place that your audience can find you and engage with you. Be a resource to them and be open to questions so that you can transparently become part of their community as you build relationships with them.
5. Build an Email List
Start from day one building your email list. Your email list is made up of the people who like what you're saying, have purchased your products, or have agreed to receive information from you. Plus, it's an asset that you own and that you can take with you wherever you choose to go from here.  You can create checklists, eBooks, and information that they'll be happy to sign up to get in exchange for submitting their email address and run advertising on the internet to help build your list right now.
6. Create Relevant and Consistent Content
Developing, creating, and publishing relevant and consistent content is an imperative part of  your online marketing tactics and strategies. Content can be published on your website, on social platforms, on industry websites and blogs as a guest, and more. When you know your audience, your products, and your reason for existing, you'll be able to create more content that speaks to your audience. Make sure the content you publish has a purpose such as educating, informing, encouraging, and engaging your audience.
7. Use Compelling Imagery
When you publish anything today, it needs to be visually pleasing. Choose readable fonts, good color contrasts, and use images that follow your branding guidelines so there's no mistake that the content is from you and your business. For example, if you want to use artsy images versus real photos, make that part of your branding.
8. SEO (Seach Engine Optimization)
SEO (Search Engine Optimization) involves reaching the highest search results possible for your website to drive organic, non-paid, traffic. About 92% of web searches go to websites that are on the first page of search results. This is primarily done by providing quality content (see point #6 above), using relevant and descriptive keywords and making your website easy to navigate.
9. Don't Be Afraid To Advertise
Advertising on the internet doesn't have to be expensive. It can make a huge difference in how fast you expand your reach and start making a profit, getting more email sign-ups, and building your audience. Social media platforms, such as Facebook ads, offer a variety of cost-effective online marketing tools. However, before you post any ads, ensure that you understand how to use the platform properly so you reach your target audience.  Once you do place an ad,  monitor the data to ensure that what you're doing is working. That way you can tweak it as you go.
10. Video Marketing
Statistics show that sales pages that have video convert 80% better than those that do not. Many website users like to watch a video demonstration about the products and services that they want to use. The effectiveness of submitting relevant videos to sites like, Vimeo, YouTube and other video sharing sites is a marketing strategy that won't go away. Video marketing can grow your online presence exponentially.
Free Checklist: 10 Online Business Mistakes To Avoid
We all make mistakes. We wouldn't be human if we didn't. In the world of online business, you're going to make some minor boo-boos and some cataclysmic mistakes. It's all part of the learning process. Although mistakes are going to happen, you can avoid them. Download my free checklist, A Guide To The Top 10 Mistakes in Online Business, and avoid the false moves and slipups that bloggers and even top online marketing companies make.