Are You Promoting Your Business on Facebook?
Promoting your business on Facebook is one of the most cost effective ways to get more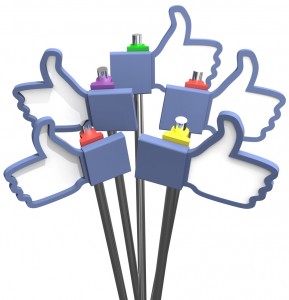 customers. Facebook is the leading social community online with over 1.4 billion active users. When you know how to advertise your business on Facebook it gives you the potential to customise your advertisements so they appear only to specific groups or segments of people who are interested in your products or services. You can easily monitor the effectiveness of your advertisements and modify them to adjust to responses.
Facebook provides a highly targeted marketing platform that cannot be replicated by any other media network. Even if you are not personally on Facebook, your prospective customers are. Knowing how to advertise your business on Facebook is important for your business. Here are 10 tips to get you started.
10 Tips On How To Advertise Your Business On Facebook
1. Have A Clear Objective
Everything about your advertisement should be created with your main objective in mind. For example, do you want to generate sales directly from your ad or get people to sign up and join your subscriber list for future marketing efforts?
2. Choose Your Geographic Area
Do you sell products that can easily be shipped anywhere in the world or does your business only serve your local area? For either of these cases or anything in between, you can tailor the regions where your ads will appear to match your business needs.
3. Customize Your Advertisement For Your Target Audience
Facebook collects a lot of information about its users. This means that when you're advertising on Facebook, you can directly target your audience based on their age, gender, location, interests and several other criteria. The more focussed you are on your ideal customer, the more effective your advertisements will be.
4. Use Images
When promoting your business on Facebook use images that will grab your audience's attention. Images receive far more interest and generate higher response rates than text-only ads. If your budget allows, create a couple of ads with different images and monitor their relative effectiveness.
Free Checklist & Report: How To Profit With Facebook Groups

5. Set A Budget
You can choose to run ads continuously or for a particular period, and you can select how much you are willing to pay. Budgets are set as a maximum daily expenditure or total expenditure over the duration of the campaign.
6. Use Facebook Ad Manager
Ad Manager gathers the metrics on responses to your ads when promoting your business on Facebook. Using the information it provides, you can alter your campaign, change your budget or target market or even completely re-design the ad. Facebook Ad Manager is also available as a smartphone app.
7. Use Conversion Tracking
With Conversion Tracking, you place a JavaScript code on your website that tracks visitors' actions. That JavaScript sends info to Facebook, where it is compared with their record of prospects that looked at or clicked on your ad. Among other things, you can determine how many people viewed your website or made a purchase after seeing your Facebook ad.
8. Boost Your Posts
Boosting a post is a different way of promoting your business on Facebook. Boosting a post that you have created causes it to appear higher in the News Feed of your target audience, meaning that it will be seen by more people. Any post can be boosted, but just make sure that it is related to your overall objective.
9. Include A Call To Action
Professional salespeople do not present information to prospects and hope they will choose to buy. They offer the information and ask the prospect to make the purchase. You need to do that in every ad you create. Depending on what response you want, include buttons or links asking the reader to, for example. 'Click Here to Buy', 'Like This Page' or 'Click Here to Receive My Free Report'.
10. Don't Just Post Ads On Your Page
Facebook gives you the ability to build a relationship with your prospects. You need to provide them with value and not just bombard them with advertising all the time. Promoting your business on Facebook is not just about continually running ads. Give your followers reasons to like you with entertaining and informative posts.
Discover More About Promoting Your Business On Facebook
When it comes to promoting your business on Facebook, you need a tailored strategy that works for your business. Have you put off using Facebook to generate more business? Has a fear of not knowing where to start kept you from moving forward? If you don't how to advertise your business on Facebook or you're not achieving the results you want, check out FBInfluence, trusted by over 20,000 people from 119 countries as their go-to source for Facebook marketing training.