Video Marketing Ideas That Are Quick And Easy To Produce
Are you stuck for video marketing ideas? According to Dr. James McQuivey of Forrester Research, the value of a one-minute video is over 1.8 million words. That's pretty impressive. So what are the video marketing strategies for your business?
When you embark on a video marketing plan it's important to use many different types of videos in your video marketing mix – just like when you start blogging. You want your audience to get excited about tuning into your videos because they know it will deliver value and not always exactly the same.
Here are 10 video marketing ideas that will keep your audience interested and don't involve huge amounts of production.
10 Video Marketing Ideas For Small Businesses
Below are some creative video ideas that you can use when developing a video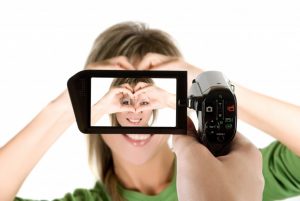 marketing strategy. Having a variety of different types of videos will keep your viewers interested and build your audience faster.
Video Marketing Benefits:
Quick to create
Lots of free tools to enhance your video
Great way to promote your products
People like watching videos
Generates increased traffic to your site
1. Expert Interviews
You can use video to capture interviews you conduct with experts in your field. People love listening to those that they know to be movers and shakers. Don't be scared to ask people to let you interview them. You'll be amazed at how many people will eat up these interviews.
2. Demonstration Videos
If you want to show someone how to do something, video can't be beat.  Develop demonstration videos if you have a topic that's hard to understand or explain in words, such as rolling the perfect sushi roll. Video is the perfect medium to use to demonstrate your concept. It doesn't matter if it's cooking, technical or something else entirely, people love looking up videos to find out how to do something. Be sure not to skip steps, and explain concepts as you move along in your video.
3. Talking Head Videos
This is actually the most common form of video. It's a great way to connect with your audience as people can see your face, hear your voice and get to know you. Looking them in the eye and feeling as if you're talking directly to them is something that your audience will enjoy. Video doesn't have to be fancy to get views and convert. You can use video much like you do a blog. In fact a 'vlog' is a video blog and you can film and upload it to YouTube just using your smartphone. Keep in mind that you need to give a professional view of yourself and your business based on who your audience is and what they expect.
4. Live Events
You can record live events such as Google Hangouts and Facebook Live and allow people to ask questions about your business. Then you can post them later as videos. Not only will you get viewers live, but you'll also get viewers later when you post the recording. With a little editing, it can even be sold inside of other products or given away as a high value freebie to encourage people to join your email list.
FREE Checklist: How To Market Your Business With Video

5. Slide Shows 
Another type of video that works well is to create a slide show of images. You can use software like PowerPoint to do this and then upload it to YouTube. It's an easy way to break into the world of video content marketing. You can also add a voice-over explaining what the viewer is looking at. If you don't want to have a voice over, another option is to include music. This will make the slides much more interesting.
6. How To Videos
A great way to start doing videos is to tell people how to do something. It's a proven fact that the mind remembers better when you engage as many of the senses as you can. By providing voice and a clear picture of what is being said, you will improve retention. This is a super way to reuse some of your former blog posts that might say how to do something, too.
7. Video Tips Series
Another really cool thing to do with videos is to make a list of 10 tips, or 8 tips, and go through them really fast. You can then expand by making each tip one longer video in a series.
8. Sales Videos
These types of videos are made for landing pages and sales pages. They use all the same trigger words, terms, and ideas that a written sales page uses. Video sales pages have been shown to have a high level of conversion. Some estimates put the conversation rate 46% above typical text-based sales pages. However, when it comes to video sales pages, quality matters a great deal. Don't skimp.
9. Testimonial Videos
Nothing is better than a testimonial video. Asking your customers to provide a testimonial video can be scary, but once you start getting them it brings each testimonial to life in a new way. You can do this by having a contest inviting people to enter by telling what they love most about your product or service. The winner would receive a bonus product from you. Furthermore, have them invite others to "like", "share" and vote on their favorite video.
10. Educational Videos
Outside of demo videos you can also create really good educational videos about a specific subject that is relevant to your target market or niche. Just pick a topic and one serious point to cover for the video. By explaining a topic carefully and thoroughly with video, your audience will come away with fewer questions and a lot more knowledge. You'll be seen as a expert in your field and that will make prospective customers more likely to buy from you rather than one of your competitors.
Get Your Video Marketing Ideas Produced In Minutes
The importance of having a video marketing strategy cannot be underestimated. However some online entrepreneurs often ignore video. They think it's too time consuming and laborious because of the editing, complicated codecs, aspect ratios and file formats to fiddle with. But now it's easy to create professional high-quality online marketing videos. Try out this video marketing software for free and get your video marketing ideas produced faster and with less effort than ever before.