Does Your Web Based Business Use These Strategies?
A web based business enables you to sell your products or services to people all over the world. It operates 7 days a week, 24 hours a day. The internet is a great place to do business but it is competitive. Do your products or services offer something better and or more modern than your customer's neighbors or colleagues have?  Do your products or services make your customers' lives easier or more comfortable?

Whatever your products or services offer, there are 3 key sales strategies that separates a successful web based business from a struggling web based business.
3 Sales Strategies That Your Web Based Business Needs
1. Direct Sales
Direct sales are the easiest way to start making money with a web based business.  You provide a product or service that solves a problem for a customer, makes their life easier or makes it more enjoyable. It's a one-off sale at a reasonably low cost. The cost is instantly affordable to the customer and it is delivered in an effective and timely manner.
It's much easier to sell to an existing customer than to a new customer. So it's important that you build a database of customers and prospects who have shown an interest in buying from you. This process, called list building, allows you to keep in contact with your customers and prospects, usually via email.
You can create your own product to sell or you can sell products created by other businesses. Whatever route you choose, the product or service has to deliver what your customers want. Remember that people will only buy when they are ready to buy, not when you are ready to sell. It's important to maintain contact with them and continually provide good information and value.
2. Recurring Income Sales
Recurring income sales are something that you sell once and receive an income on an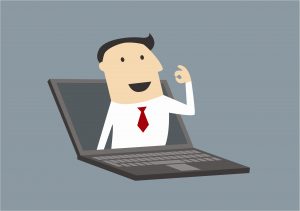 ongoing basis. Normally this is a monthly payment. The income is paid to you for as long as the customer uses the product or service. Although the initial upfront earnings of a recurring income sale may be less than a one-off direct sales, they have excellent long term value and can generate a substantial income over time.
The easiest way to incorporate this sales strategy with your web based business is to create a membership area. You can create a membership area ahead of time that drip feeds information to your customers when they sign up.
Software licenses are another option for recurring income sales. You don't have to create your own software as you can become an affiliate for software created by other business. There are many recurring income products available on Clickbank. Accounts on Clickbank are free to set up. To find recurring income products, click on Marketplace, choose your category of product. Then select 'Recurring Billing' from the Product Type drop down menu.
FREE Checklist: Get More Free Website Traffic

3. High Ticket Sales
If your web based business sells a high ticket, or high priced item, it will make all the difference to you revenue. A high ticket item is a product or service that costs excess of $1000. Of course, it's very unlikely that a new visitor to your website will buy a high ticket item from you the first time that they come across your business. You have to build a relationship with your prospects so that they come to know, like and trust you. This is done by constantly providing value in your emails, website articles, blogs, webinars, pod casts, videos, etc. Doing so makes your customers come to trust your judgement and see you as an authority within your industry.
Additionally, a high priced ticket item has to offer exceptional value and a clear difference to low prices products in that exist in your market. You may be thinking that people won't pay for products or service like this. But this is the business model used by the airline industry. Look at the difference in cost between a first class ticket and an economy class ticket. They both essentially get you from one place to another. However, if a first class ticket did not offer anything different to a regular economy ticket, people wouldn't travel first class.
The target audience of people who buy high priced items is naturally smaller. But they are willing to pay a lot more if they get exceptional difference and value. Lower cost products may do part of the job but don't provide everything that a customer may need to in order to reach their objective in the manner and timescale that they want.
Proven Steps For Building A Profitable Web Based Business
Having these 3 income streams in your web based business will make all the difference to your success. If you start an online business based upon only selling one-off, low cost products with no recurring income, it's going to take a long time to achieve any real results. Low cost products may be easier to sell but you have to sell a lot of them to make a reasonable income. If you want to take your web based business to the next level, check out one of the best free online business courses available. It's completely free and provides you with the "truth" about profiting online and why most people struggle to scale their results and make any real money.