How To Give Your Online Home Business A Boost
The most important asset of any online home business is your productivity. Usually, most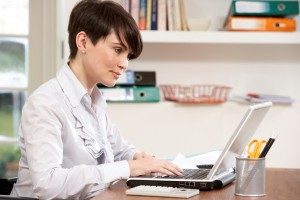 people start a work from home online business as a side business. Their intention is to generate extra income to supplement their existing salary from their regular day job or to use their online home business as a launch pad to generate sufficient income so that they can quit their day job.
The available  time for a work from home online business is usually limited, so the key aspect is how much quality work you can finish in the least possible time. It all boils down to working smarter not harder. If you are constantly struggling to juggle everything, if you are always working late, if you are always tired and feeling burned out, then these 3 surefire techniques will help you boost the productivity and have a more positive attitude towards your online home business.
3 Surefire Techniques To Boost Your Online Home Business
1. Know When You're Most Effective
We are not all effective at the same time of day. Some people are totally focused first thing in the morning, for others it might be late at night. You have to known when your mind is working to its full potential. That way you are primed for the tasks and challenges that your online home business presents. Find that day and time and do the more challenging tasks within that period. It could be writing a post or page for your website or blog. It could be working on your email marketing campaigns or driving traffic to your sales pages.
It also means letting your family know that you are working so that you're not disturbed and turning off all potential distractions like social media or your mobile phone. Set a timer for one hour and you'll be amazed how much you can do when you're focused and have no interruptions.
2. Plan What You're Going To Do 
Keep a hard-back note book to jot down all the tasks that you need to do. When you're running an online home business the most important tasks can be divided into 3 areas:
Decide on the most important tasks you need to do for each area, and allocate a hour for each. And don't forget to take a 15 minute break every hour worked to recharge your batteries.
3. Focus On One Thing At A Time
You may think that being able to do  a couple of things at the same time is great but is it really effective? By doing more than one thing at a time, you can't give both (or even just one of them) your single best effort. Focus on one thing at a time. When it's time to work on your online home business, do the work and get it done. Then get out to enjoy your spare time. This is one of the most important elements to being more productive and happier.
The Complete Road Map For Your Work From Home Online Business
When you work smarter and make the most efficient use of your time, you don't just get the job done. You get it done and still have plenty of time to do things that you want to do. After all, isn't that why you started an online home based business in the first place?
The main reason that many people struggle with a work from home online business is that they have no solid plan. They may know 'what to do' but they don't know 'how to do it'. This often results in frustration, debt and failure of a potentially successful home-based business. But now you can get access to everything you need to start a home business online. This step-by-step system shows you how to build your very own profitable online home business in any niche or market.