How Can You Make Money From Home?
The quickest and easiest way to make money from home is to do it via the internet. But that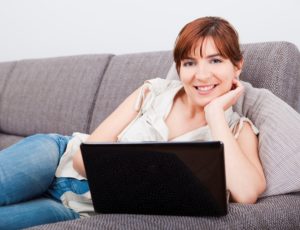 doesn't mean that you have to be a computer whizz-kid. If you are reading this article it shows that you already have sufficient skills to find the information on the internet and that's your first step to starting an online home based business.
So why the internet? The increasing number of people buying products and services via the internet has opened many opportunities for people from all walks of life. Everyday people are buying and selling online all the time.
Let's take a look at the top 3 ways to make money from home using the power of the internet.
The Top 3 Ways To Make Money From Home
1. Create Your Own Information Product
People use the internet everyday to search for information. An information product, usually in the form of an eBook, report or video course, is something that somebody pays for and can download instantly to their computer.  An information product is a great way to make money from home online because once it is produced, you can sell it again and again.
You may wonder why people would pay for information when so much is already free online. The reason is that we all know that not all information found online is the same or even correct. People who need the best and most reliable advice, training or information are willing to pay for it. Also, they may not want to spend hours searching  online trying to find what they want need for free, when they can buy it instantly.
You don't have to be an expert to create an information product. As long as you know about the subject than your target audience.  You can even outsource somebody to create it for you and then put your name on it.
2. Sell Other Peoples' Products 
If you have a particular interest or hobby but you do not want to produce your own product about it, you can sell a product that somebody else has already created. When somebody buys it from you, the product owner will pay you a commission. This business model is called affiliate marketing and there are products and services that you can sell to make money from home in just about every industry and topic that  you can imagine.
Affiliate marketing is often the first method that people use when they want to make money from home. You don't have to worry about product creation, payment systems, product delivery or customer service, as the product owner takes care of all of these issues. Your job is choose the best product for your audience and get prospective customers to visit the product's sales page where they can purchase it.
Affiliate websites that can help you to start selling other people's products online include: Amazon, CJAffiliate, ClickBank and JVZoo
3. Use Your Existing Skills
If you have a skill-set that other people are willing pay for you use them to make money from home. These skills can range from graphic design, language translation, web design, marketing, sales, secretarial, writing, administration, accounting, legal and financial services. In fact, anything that you would get paid to do in a traditional job, the only difference is that you are working online. You don't even need to set up a website as you can register with freelance websites like Elance and oDesk who have thousands of customers looking for people with the skills you have.
You can take it one stage further and actually set up a teaching website that shares information about your skills. You can then charge for lessons or online classes. You can also create them via video for people to download directly to their computers.
The Proven Steps To Make Money From Home
It's important to remember that when you start to make money from home online you need to treat it like a business. If you treat it as some kind of easy instant income system you will be disappointed. There is no such thing as a 'push button, get rich quick' online business. Many people jump in head first and often find themselves overwhelmed and confused. They waste time and money and give up thinking that it was not worth the effort after all. This Free 'Crash Course', from the world's first digital marketing academy, reveals the proven steps to make money from home even if you don't have any previous experience or are struggling to get started.