Why Affiliate Marketing For Beginners Can Be Tricky
Affiliate marketing for beginners can be a bit overwhelming.  The first question is usually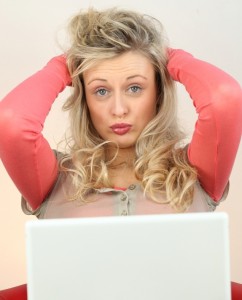 "What is affiliate marketing?" closely followed by "How to start affiliate marketing".  Affiliate marketing is basically being like a commission paid salesperson where you sell products and services online on behalf of other businesses. You don't have to create your own product, purchase any stock, get involved with payment systems or organize deliveries as the business owner takes care of all of this. Your job is to drive customer traffic to the business' sales pages for them the buy the products or services.
The process is reasonably straightforward and many people generate a sizable online income selling products and services via affiliate marketing programs.  But when you start out there are a number of factors to consider. Let's take a look at the 5 main issues that effect affiliate marketing for beginners and how you can overcome them.
5 Problems With Affiliate Marketing For Beginners
1. Finding The Right Niche 
There are affiliate marketing programs in just about every niche and industry you can imagine. Whilst this is great from a choice point of view, if you want to be successful with affiliate marketing you must chose a niche that you can identify with, has a big and easy to reach target market and has the high quality products and services that the target audience will want to buy. The four top niches for affiliate marketing programs are:
Wealth (eg, gambling, foreign exchange, internet marketing. making money online, real estate investments, etc)
Health (eg, fitness, weight loss, nutrition, well being, beauty, pregnancy, yoga, etc)
Relationships (eg, dating, divorce, making up, sex issues, parenting, etc)
Spiritual (personal development, astrology, hypnosis, numerology, etc)
A niche that has an abundance of high paying products and services will naturally be able to pay its affiliates more. Money trickles down in every industry. The only variable is the amount.
2. Picking The Best Affiliate Marketing Programs 
This is where affiliate marketing for beginners often goes wrong because they don't pick the right affiliate programs. You need to choose the programs that really deliver quality both by way of commissions, and by way of being a high value, high demand product for your customer. The best affiliate marketing programs will have a selection of products and services that provide multiple revenue streams, such as basic one-off direct sales income,  recurring income, products and, ideally, high ticket income products. If any of your affiliate marketing programs are not converting, or have dismal conversions, then replace them with something new.
3. Picking the Best Products
The more you've studied and experienced the niche, the more natural it becomes to pick just the right products to promote. Because you just know, in an industry that may have a catalogue of tens of thousands of product choices, which is that one current hot product that your clients will want to buy. A experienced affiliate marketer understands every single niche he or she chooses to venture into. This aspect of affiliate marketing for beginners is not so easy. If you're selling physical products check out sites like Amazon (Best Sellers area), or pulse.ebay.com to quickly gauge high demand items. If you're selling digital products, check out cbtrends.com to see  the performance history of any product listed in the ClickBank Marketplace.
4. Promoting The Ideal Number Of Products
Some do too much. Some, too few. As a very basic rule of thumb, you should promote a core of about 10 affiliate products within each niche that you are working in. These affiliate marketing programs should have products that cover just about every need your clients will have. Don't make the mistake of promoting just one or two low value products with no add-ons or up-sells. If you do, your customers are not given enough options to pick from and if a client does buy, you won't make much money. On the other hand, you don't want to make the mistake of promoting too many products because your customers (not to mention you) will be too confused to make any choice. Get it just right, so there's something for everyone, including you, on each and every tier of your sales funnel.
5. It's All About The Traffic
As an affiliate marketer you'll live or die by the amount of customer traffic you drive towards your website and sales pages. It's a core skill which you need to develop on an ongoing basis. Continue to learn new traffic generation methods and techniques. Affiliate marketing involves using paid and non paid methods to generate customer traffic. There are many methods you can use to get customers and some can be very expensive if not done correctly. For more information, check out 6 Ways To Get Free Website Traffic and How To Buy Website Traffic.
Free Blueprint On Affiliate Marketing For Beginners
Affiliate marketing for beginners in the online business world is the easiest way of starting your own internet business. You don't have to worry about creating products, payment systems, organizing delivery, customer support or any of that stuff. All you have to do is send traffic to an offer and then you get paid a commission every time someone buys through your affiliate link. It is a risk free way of learning the ropes and gauging the market before creating your own product. Check out this Free Blueprint that reveals the step by step process on how to do affiliate marketing successfully so that you can quickly and easily profit from affiliate marketing programs.