Why Your Business Needs Social Media Marketing
These days social media marketing cannot be ignored in your marketing strategies as it supports the growth of business.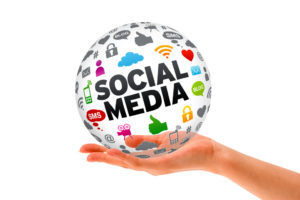 Your prospects and customers are using social media whether you like it or not.
By using social media marketing your business has an incredible opportunity to connect with your target audience, increase your exposure, generate leads and bring in sales. Still not convinced? Here are 5 key reasons why your business needs social media marketing plan.
5 Reasons Your Business Needs Social Media Marketing
1. Reach
Why do marketing managers spend countless hours planning, posting, testing, and perfecting their social media presence online?
Over 3 billion people have access to the internet and 2.1 billion of them have social media accounts.
Facebook has over 1.4 billion users, that's 47% of all Internet users and 936 million Facebook users login in at least once per day.
YouTube has more than 1 billion users, more than a 1/3 of all web users. Every day web visitors view hundreds of millions of hours on YouTube that generate billions of views.
Twitter has 316 million monthly active users that send 500 million tweets each day
Google+ has 363 million users that hit the +1 button 5 billion times per day
Pinterest has 100 million users, 85% of which are women.  67% of pinned content is from a business site and 82% of Pinterest users would rather follow a brand than a celebrity.
These stats really illustrate the reach that social media marketing can have on your business.
2. Building Relationships
Social media allows you to reach people at a more personal level. Many social media marketing experts state that social media is about  building relationships with your audience. When you connect with people and they connect with you, they are more likely to follow your brand and all it has to offer.
Free Checklist & Report: How To Profit With Facebook Groups

3. Show Off Your Best Content
Social media allows you to show off your best content, and highlight all your brand has to offer. Whether you use text, images, video, or all of the above, you can tailor your campaign to present and impress your target audience with the very best content, products, and services that your business has to offer. Tailoring your campaign through social media allows you to meet many objectives. This includes building brand reputation, better customer engagement and an improved customer experience.
4. Steady and Reliable Traffic
Social media can bring a steady, long term, reliable and ongoing stream of traffic to your websites and blogs. It can open your business to a whole new audience. Having a good social media presence can work like word-of-mouth referrals when your followers share your content with their followers. When you create a compelling social media post that people enjoy and want to share, you can potentially reach tens of thousands of potential customers, for free!
5. Control
One of the greatest benefits of social media is that you have full control of what is presented about your company, brand, and website to your target audience. You can tailor your social media marketing plan to meet specific goals and not leave anything to chance. For example, Facebook advertising allows you to create ads that appear only to specific target market groups or segments of people. This is based on the information contained within their profile or based on gender, location, or personal preferences. There is  multitude of tracking, testing and social media marketing tools available, such as, Buffer, Klout, SumAll, BuzzSumo, and TweetReach. These tools allow you to enhance and tweak your campaigns as needed to constantly improve your efforts to boost conversions.
Social Media Marketing On Facebook
There has never been a better time to take advantage of all social media has to offer. If you have an business and do not have a social media presence then you are behind the times. It's really as simple as that. The best place to start is with Facebook. It provides a highly targeted marketing platform that cannot be replicated by any other media network. If you don't how to market your business on Facebook or you're not achieving the results you want, discover the secret system that smart Facebook marketers are using. Learn the exact social media marketing strategies for Facebook that will drastically increase traffic, leads and sales for your business.