What You Write Can Make Or Break Your Email Marketing Campaign
An email marketing campaign can be one of the most effective strategies for engaging with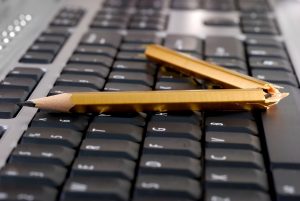 your audience and recommending a product or service. However, when you're fighting for attention in a busy inbox, you have to make sure that your message not only stands out, but gets read and some action is taken.
What you write and how you write your emails can make or break your email marketing campaign. You may have the best product or service, the best promotion or the most exciting news to tell the people on your database, but if your copy is monotonous, too complicated or just plain boring, your email will head straight to the trash folder. Here are 6 mistakes you need to avoid with your next email marketing campaign.
6 Ways To Wreck Your Email Marketing Campaign
1. Writing In Big Blocks Of Text
If you want people to immediately close your emails use big blocks of text. When someone opens an email and sees a big block of text, it doesn't make them  want to read it. It just looks way too intimidating. The key is to make short sentences that are very easy to read or scannable. Break up the information so it is very easy to digest. Doing so will ensure your entire email is read.
2. There's No Call To Action
Never send an email marketing campaign without a clear call to action. Every email you send out should result in some sort of action. Whether it be visiting a certain website or making a purchase. Always be clear about what you want your subscribers to do. Also, make sure links are always blue and place those links early on in the email, not below 500 words of text.
3. It Takes Too Long To Get To The Point
Lengthy emails are rarely read all the way through. The text should be short and to the point. State a problem, give a solution, and send the reader to a website where they can learn more. That's really the flow of an effective email marketing campaign. Don't try to tell them everything in the email; it should just be the incentive to get them to the primary landing page or website.
4. It's Not Written For Your Audience
The messages you send out have to be tailored to your specific audience. In other words, you have to write about things they are actually interested in. If you have no idea, who your audience is and what they want it's time you found out! Luckily, it is very easy to do. All you need to do is send out a quick survey asking them to answer a few questions. Based on their responses you will know how to create a targeted email marketing campaign that provides information or access to products or services that your audience want.
5. The Subject Line Is Boring
One of the most important aspects of any email marketing campaign is the subject line. It's the door to your subscribers. If your subject line doesn't catch their attention, they won't open your email. In fact, statistics show that 50% of open rates are based on subject lines alone. Your subject line needs to attract the attention of the reader and make them curious to open the email. Here are 10 subject lines ideas to boost your next email marketing campaign.
6. You're Not Consistent
Consistency always breeds success. The key is to find your style and hone your skills. If you write using a conversational tone, stick with that. Don't change the tone of your message. The bulk of your messages should speak in the same tone. Switching it up will not only confuse your readers but it can turn them off as well. You should also brand your messages. You can do this by always using your logo and tag line. Branding is a great way to be memorable to your readers. The more familiar they are with your brand the more they will trust you.
Send Your Email Marketing Campaign With Confidence
Don't expect the first email marketing campaign to be a hit. It takes time to understand your audience and to know what they want from you. The foundation for effective email marketing campaigns is having a targeted, permission-based email database which is managed with reliable bulk email marketing software. This will enable you to automatically deliver a sequence of messages to your audience, see which of your messages are getting opened and clicked, create newsletters, target different sections of your database, track your performance as well as collecting, managing, and segmenting your database. AWeber is generally acknowledged as industry's leading email marketing campaign software and you can take a free trial at the Official AWeber website.