7 Top Online Marketing Strategies
Success in business is mostly about marketing and with an internet business you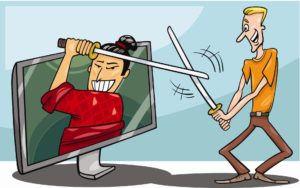 need to know which online marketing strategies are going to work for you, rather than stabbing in the dark and hoping that something is going to work.  Your online marketing strategies can launch products or services or increase sales substantially for your business.
The best way to succeed with an online business is to know exactly what is online marketing and how it can help your business. Here are the 7 'samurai' of online marketing strategies that you can use to make your online business cut through the clutter and defeat your competition.
The 7 Samurai Of Online Marketing Strategies 
Search Engine Marketing
Search engine marketing or SEM accounts for half the money spent on online marketing strategies. It covers two main elements. The first is pay per click (PPC) where your ad appears on a search engine or publisher website and you pay each time your ad is clicked. When you run a PPC advertising campaign, you typically bid on keyword words or phrases relevant to your target market. The more you bid (or pay) the higher your ad will appear in the listing. The second SEM strategy is search engine optimization. This is the process of improving non-paid, also known as organic, results in search engines for a particular keyword or set of keywords. By 'optimizing' your website pages you can get the search engines to find your online business and display it in their results pages.
Display Advertising
The second biggest spend in online marketing strategies is display advertising. This consists of ads on webpages, between webpages and pop-up ads. Text and images are easy to track. Most websites supply marketers with data on how often the ad was clicked and how many times it was viewed. Display ads can appear when a user lands on a webpage or searches for a particular keyword.
Social Media Marketing
Social media marketing is the internet marketing strategy of 'word of mouth'. Your online business can communicate directly with your target audience and they can communicate back. Due to the information that social media networks have about their users, online marketers are able to target their ideal audience very accurately.
Email Marketing
Email marketing us the the oldest and for many companies the effective of all the online marketing strategies. Legitimate email marketing only targets people who have given their permission to receive emails from a business.  An email marketing campaign can attract new customers, keep and build relationships with existing ones and up-sell or cross-sell your products and services. It is easy to track your open and click rates and segment your database so that you can send specific messages to the people on your list.
Online PR
This is the process of influencing journalists, bloggers and online publishers to give your business online publicity. It involves selling press kits and the distribution of press releases or articles. It can be tracked with monitoring software that will notify you when your business or products are mentioned online.
Affiliate Marketing
Business pay publishers a commission for sales or leads generated by the publisher. The publisher is called an affiliate because they are associated with the product but are not directly part of the business that they promote. The major attraction to product creators is that they can get their affiliates to do their marketing for them and pay nothing if the affiliate does not sell anything.
Product Marketing
This internet marketing strategy is the way you manage your product or service on your website. A product marketer will conduct research with customers and competitors of the business. They will then create unique landing pages, text and designs to ensure that website provides the desired brand image. Although it is not one of the online marketing strategies that does not directly drive traffic to a website, it does assist sales by providing a seamless customer experience.
Get The Right Internet Marketing Strategy 
When you start an online business on the internet, your internet marketing strategy is often made up of stabs in the dark, hoping that you will get some customers or sales. Often, if and when you do make a sale, you're not really sure how it happened or what went right or what went wrong. To learn more about how you can implement proven and effective online marketing strategies for your business check out this FREE Presentation from Stuart Ross, a leading internet marketing strategy consultant.