Use These SEO Tips To Boost Your Organic Website Traffic
SEO tips (or search engine optimization tips) are useful for every online business no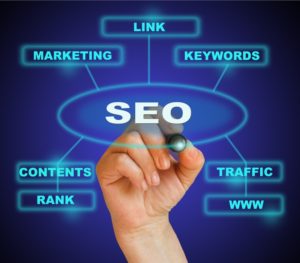 matter what niche or industry that they are in. SEO is the organisation and focus of a website so that it appears in search engine rankings for certain keywords.
The process of optimizing your website to rank highly in the search results can be a complex process, but these SEO tips will outline 7 key factors that are easy to implement and will help your overall search results.
7 Basic Search Engine Optimization Tips
1. Know Your Keywords
Keywords are where you start with any list of SEO tips. They are the words and phrases that your potential customers will type into a search engine when searching for information on products or services associated to your online business. The more generic a keyword (for example, golf) the more competition it will have. When a keyword is more specific (for example, golf holidays in Spain), the search results will be more defined and targeted. There are a number of free tools to help you search for high ranking and competitive keywords such as Wordtracker, SEO Book Keyword Tool and Keyword Eye.
2. Your Page Format
Search engines trawl through the internet and make an index of all websites. This index is used to provide search engine results and better results come from having your keyword strategically placed in your page format. For example, it is advantageous to have your keyword in your domain name. This is not always possible, so make sure you insert your keyword into the title of your page, in your first sentence and in subheaders within the content. Also try to use your keyword as an anchor text. These are the highlighted words that when clicked, will link to open a specific webpage.
3. Your Page Content
One of the most simple SEO tips to know is to update the content your website on a regular basis. A great way to do this is to write a regular blog. Ideally, your page should have approximately 500 to 1000 words containing between 4 to 8 keywords. Remember than content is king and you need to write information that is unique and worthwhile and that can be easily read by people, not just by search engines. If you just stuff a page full of keywords your website will be marked as spam and not get ranked at all.
4. Meta Descriptions
The meta deception is the line of text that appears below the title of your page when it is listed in the search engine results. Although meta descriptions are not search engine optimization techniques that really influence your search engine ranking, it is the text that people will read to encourage them to click through to your website. Use your keyword in the meta description as it will show up in bold text. You are limited to 140 characters so carefully chose what you write as it's these words that could make the difference between somebody clicking or not.
5. Link Building
Link building is the process of creating links back to your website from third party websites. Search engines view backinks as an indication of the popularity and value of the content on a website. Generally, increasing the number of backlinks pointing to a site will improve that website's search ranking but ensure that the links coming into your website, or backlinks, are from quality websites and not just spam websites made up of keywords. Poor backlinks will lower your rankings. SEO tips for link building include guest blogging, article marketing and listing your website in relevant directories.
6. Images
One of the SEO tips that is often overlooked is value of images on your website pages. Although search engines cannot 'read' images they can read the descriptions that you give to your images. Each photo, image or graphic should have a keyword attached to it. Images also make the page more attractive for your readers and can draw the reader in to read your content in more detail.
7. Be Relevant To The End User
The job of a search engine is to supply links to the answers or information that users are searching for when they use the search engine. Search engines index websites that contain keywords that are significant to the search query as they want to provide the best possible results to their users. If Google provided rubbish search results, nobody would use it. Ensure that your website provides useful and relevant information for your target audience. The last of these basic SEO tips is to remember that, ultimately, it is the person who made the search that you want on your website as they are your prospective customer.
Ultra Targeted Search Engine Optimization Tips
Implementing the search engine optimization tips above will improve the SEO basics on your website. But it can be challenging trying to format keywords, calculate keyword density, set the correct content length, create the exact placement of your keywords, tag your images, insert links, use font decorations and more. For more SEO tips, check out these 10 Steps to Ultra Targeted SEO Content Marketing that will show you how can automate your search engine optimization like a pro.