Simple Video Marketing Ideas If You Don't Want To Be On Camera
As an online business owner, you're going to need some video marketing ideas to get your business noticed. When you have a video on YouTube, you have an excellent chance for ranking for a particular keyword or phrase in the world's two largest search engines.

The largest search engine is Google. Google purchased YouTube a few years ago.  Now YouTube is the second largest search engine on the internet and has claimed more than 3/4 of all video search traffic.
But what if you're camera shy? A lot of people are and don't want their face on video talking about their business. If you're one of the many people who is reluctant to get in front of a camera, here are 7 video marketing ideas for shy business owners to make sure you don't miss out on the powerful marketing opportunities video provides.
How To Use Video Marketing If You're Camera Shy
As much as 74% of all web traffic is watching videos. So you must get your videos out there, and this might mean getting over your fear of being a video star. The following video marketing tips will help you feel comfortable in front of the camera, allowing you to cash in on the efficient marketing method that is video marketing.
1. Practice, Practice, Practice
Practice makes perfect and can relieve your anxiety about video marketing. Start out by simply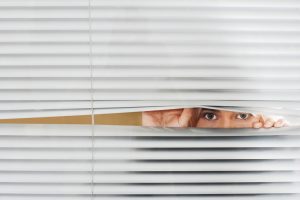 recording short 15 and 30 second videos of you doing normal, daily things. Don't publish these videos, just get used to being in front of the camera.
Next, set yourself a schedule to record one video each week. You still don't have to publish these videos at first. Then tell yourself each month you're going to choose 1 or 2 of those videos to publish. This gets you comfortable and friendly with the process, and your comfort level, as well as your expertise, will grow in leaps and bounds over time.
2. Use Screen Capture Software
Most people are scared about how they will look on video. If this is you, use screen capture software to make your video, and just use your voice for audio. This is a great way to start developing a video marketing strategy. Software like Jing, Free Screen Video Recorder and Screencast-O-Matic are free ways to capture screen shots. You record your voice through your computer microphone. Your computer records whatever you do on your monitor. This is a simple and free way to make videos and works great when you're explaining a how-to process.
After a few of these types of videos, your comfort level of hearing your own voice will improve dramatically.  Then the next logical step is making a video that includes your smiling face.
3. Get Someone Else In Front Of The Camera
This is a simple way to harness the sociability of one of your team members, a friend or family member. You can even hire someone to take your place in your video. If need-be, hire a video production company and or studio. After you see how much money you have to pay someone to make a video for your business, your shyness may take a backseat to your wallet the next time you want to record a video.
FREE Checklist: How To Market Your Business With Video

4. Keep The Process Simple
Instead of buying thousands of dollars worth of camera equipment and bright spotlights, making yourself feel like you are on stage in front of a huge audience, keep your video marketign ideas simple. Start out just using your smart phone, because you have probably taken selfies before. Alternately, you may use the camcorder and mic on your computer. The easier the process is, the more likely you are to actually follow through.
5. Head to Fiverr or Upwork
At Fiverr you can have videos created for just $6 dollars. There are plenty of talented freelancers working there and at Upwork that can create your videos for you. You might be surprised at the high level of quality videos you can have made for a small amount of money when you let someone who specializes in video creation handle the task for you.
6. Get Your Happy Customers Involved
Social proof is an excellent sales tool. Contact any customers who have given you testimonials and raved about your products. Ask them if they would like to appear on camera, or at least have their voice used with screen capture video or slide-shows. This shows your customers you really care about what they have to say, and people are more likely to believe someone that isn't on your payroll when they are talking about how good your product or service is.
7. Record a Short 30 Second Video Talking About Anything
Record a video of you talking about anything you feel comfortable about. Don't worry about how you look. Then watch the video couple of times. Improve on it. Find out where you made mistakes, and correct them. Don't publish this video. This is just for your comfort and growth.
Understand that mistakes make you real. Real people make mistakes. You do and I do. So do your prospects, customers and clients. If you pronounce words improperly on your video or make some other silly mistakes, you come across as a real person to your audience. This can engender you to your prospects, and make them identify you as someone who is just like they are.
Your Video Marketing Ideas Can Easily Be Produced In Minutes
Video marketing is an absolute must for the online entrepreneur. Search engines understand more people are watching videos rather than reading blog posts and text-based messages. They are starting to rank webpages accordingly. But many online entrepreneurs still ignore video. They think it's too time consuming and laborious because of the editing, aspect ratios and file formats to fiddle with. But now it's easy to create professional high-quality marketing videos – and you don't even need to appear on camera. Try out this video marketing software for free and get your video marketing ideas produced faster and with less effort than you ever thought possible.