How Do You Know When To Start Your Own Online Business?
Is there a right time to start your own online business? Do you have that entrepreneurial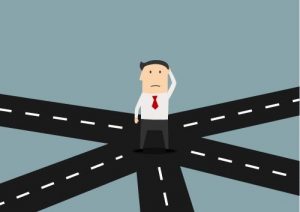 desire burning inside you but there's something holding you back?
You probably already know about the increasing amount of buying and selling that is taking place online.  And, you will have heard about how people from all walks of life, backgrounds and levels of education have learned how to build an online business and are enjoying the success that an internet business can bring.
But how do you know when the time is right for you to start your own online business? When is too soon? When is it too late? How much capital will you need? How soon will you be profitable? What set of circumstances absolutely must be present to virtually guarantee success? When 3 or more of the tell-tale signs of entrepreneurship listed below are present, it's time for you to take action and start your own online business.
9 Signs That You're Ready To Start Your Own Online Business
1. You Have Business Plan
It's not good enough to simply know that other people are making money online. When you fail to plan, you have a very good plan for failure. Before jumping in head first with any online business venture, make sure you have done your research, and have a detailed business plan in place.
2. You Have Some Funds Available 
It doesn't cost as much to start your own online business as it does to start a traditional bricks and mortar business. But you will need some funds if you want to build a legitimate business. Yes, you can get free website hosting and free website domain names but if you never really own anything and the provider decides to pull the plug, that means that your online business will disappear too.
3. Your Day Job Has Stopped Challenging You
Entrepreneurs need to feel challenged. If your work no longer pushes you, demanding your very best, it might be time to start something new. You only get a single pass on this ride called life, so you may as well be working on something that challenges you, rather than spending your days with a  job that limits your personal development.
4. Your Retirement Plan Is The Lottery
Whatever you decide to do for a living, you need to provide for your golden years. Some people stay stuck at a job they hate because of financial rewards. Others work at businesses that undervalue them and provides nothing for their future. If your retirement plan is buying lottery tickets every week, and you have been doing the research required to start your own online business, now might be the time.
Free Checklist & Toolkit: How To Choose Your Online Niche

5. You Just Don't Care Anymore
You used to love your job. You were the person everyone else looked to in the company for motivation. You wanted to help the company succeed, you worked your tail off for years to do so … but now you simply don't have any emotional investment. Entrepreneurs are passionate about what they do. If you simply don't care about your job or you feel unfulfilled now may be the time for starting a website for a small business of your own based on a topic or market you love.
6. Every Morning, You Dread Going to Work
Even in the best possible scenario, you are going to have some days when you really don't want to work. On the other hand, every day of your existence should not be filled with an absolute hatred of heading into your job. This is especially true when there are more opportunities to create a successful online business today than there ever have been before.
7. You're Fed Up Of The Same Routine  
There are going to be times when you have to put your job, especially when you are your own boss, ahead of personal commitments. It should be noted, however, that running your own online business is incredibly flexible as far as time is concerned. You can work at any place at any time of the night or day as long as you have a computer and an Internet connection. Time flexibility and personal time freedom are 2 of the major reasons people start online businesses.
8. You Can't Imagine Seeing That Nothing Has Changed A Year From Today
Sometimes the thought of the future is more than enough for you to take the entrepreneurial leap. Where were you last year, 5 years ago, 10 years ago and 20 years ago? Does your life look pretty much like it does now? You might even be suffering from a lower standard of living now than you did then. If your future is bleak, financially, spiritually and emotionally, learning how to create your own website business could be the cure.
9. You Have a Great Support Network
Does your spouse support what you want to do? Do you have good friends and family members who are willing to support you, not just emotionally and spiritually, but possibly financially if need be, in your new endeavour? It is not always required that other people agree with what you are doing. On the other hand, when you have a sounding board of supportive friends and fellow entrepreneurs that can keep you motivated when times get tough, that can make all the difference in the world between success and failure.
 Free Crash Course To Help You Start Your Own Online Business
Some people start an internet business part-time and run it as a side business at home. Some people work online full time and enjoy the freedom and flexibly that an online business can offer. Either way, your journey to success will be lot quicker and easier when you have a solid business model, clear direction and support from fellow  entrepreneurs. If you've answered yes to 3 or more of the points above, this free internet business crash course provides the proven steps for you to start your own online business, even if you have no previous experience or your own products sell.