What Every Affiliate Marketer Needs To Survive Online In 2017
An affiliate marketer is a person who sells other peoples' products and services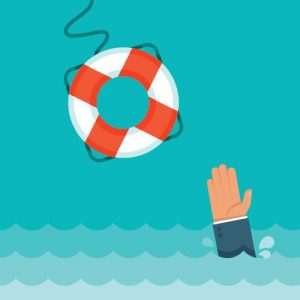 online. Affiliate marketers have a distinct advantage over product creators because they have none of the responsibility for creating the product or the management of affiliate programs.
Your job as an affiliate is to help consumers find the products they need. You're the liaison between searching and solutions. When a customer buys a product or service via your affiliate link, the product creator will pay you a commission.
Sometimes people will set up an affiliate marketing website because they think it's easy money. But the online business world is a vast marketplace and it's easy to drown in the competition. That's why every successful affiliate marketer uses the following 7 survival strategies.
7 Survival Strategies Of A Successful Affiliate Marketer 
1. Create Unique Websites
Create separate websites to promote products to different markets. Don't lump all your products together just to save some money on domain names and web hosting. It's best to have a single website focusing on each niche and nothing more. Include product reviews on the website so your visitors will have an initial understanding on what the products can do for those who buy them. Additionally, include testimonials from users who have already tried the product.
You can also publish articles, blog posts, videos etc onto your website which are relevant to the product. Make the pages attractive, compelling and include calls to action on the information. Each headline should encourage the readers to read more. The text should focus on the benefit of the product and how it can help solve a problem for the reader. This will help your readers to learn what the product is about and will want to find out more.
2. Offer Free And Valuable Information
Two things can happen when a visitor comes to your website. You make a sale  or the prospect leaving the page and never return again. But if you offer something of value for free, in exchange for a prospect's email address, you can send information into their inboxes. The best affiliate programs will often provide you with a pre-written report, ebooks videos and articles that you can give away for free. Remember that what you give away is an indication of the quality of the products you are selling. The better value you provide, the more likely it is that a prospect will buy.
3. Invest In A Quality Autoresponder
As you gather more and more emails, it will become impossible for you to manage them manually. An autoresponder allows you to instantly send out your free offer as soon as somebody requests it. Once you have sent it, you can set your autoresponder to send a series of follow-up messages to the person who requested the report. Your emails to your prospects can remind them of the reason why they came to your website in the first place and the benefits of your product. Convince those who signed up for your free offer that they will be missing something big if they do not take advantage of your products and services.  According to research, it takes 7 contacts with a prospect before they will consider buying.
FREE Checklist: Affiliate Marketing For Beginners

4. Know The Best Programs And Products To Promote
To be a succeful affiliate marketer you'll want to promote affiliate programs that pay good commissions and have high quality products. There are several factors to consider in choosing affiliate programs. Firstly, ensure that they have products that fit in with your target audience. Choose the ones that have a solid track record of paying their affiliate easily and on time. If you cannot seem to increase your investments, dump that program and keep looking for better ones. There are thousands of affiliate internet marketing programs online which gives you the reason to be picky.
5. Have Multiple Income Streams
You can't rely on just one product at one price to generate all your online marketing income. If you just sell just one product with no add-ons or up-sells your customers will not have sufficient options to pick from. On the other hand, if you try and sell too many products you may confuse your customers and they'll buy nothing. A succeful affiliate marketer will have a good mix of related products that provide 3 key income streams. These are basic one-off direct sales income, recurring income, and high ticket income. When marketing affiliate programs, if you see that they're not converting, or have poor conversions, replace them with something new.
6. Build Relationships With Your Prospects
One of the key affiliate income secrets is to be an affiliate marketer who 'tells rather than sells'. People buy from people they know, like and trust. Building a relationship with your prospects means letting them see you as a regular person, not a hard sell sales-person. Your primary value to any prospect or potential customer is to provide information. It's how they'll learn to trust your opinion. It's what will make then open and read your emails.  It will bring them back to your website and it's what will motivate them to click on your affiliate links and your affiliate advertising banners to make a purchase.
7. Have Reliable Sources Of Traffic
You may have a great looking website with the best content, lots of high value free reports to give away and top quality products to sell but if nobody know that you're out there, you won't have a business. Website traffic is the business life blood for an affiliate marketer. You have to ensure that you have constant flow of visitor traffic coming to your website and sales pages.
You can buy website traffic in the form of advertisements. This will deliver traffic fast but the traffic stops as soon as you stop paying for it. So you have to ensure that you spend your money wisely. Another option is to generate free website traffic. This is created by such methods as optimizing your website for search engine results, blogging and video marketing. It can take a while to gain momentum, but when it starts it can generate a constant flow of traffic for years. The best strategy for generating affiliate marketing traffic is to use a combination of both free and paid methods.
Survive Online By Targeting Customers Who Want To Buy From You
Every niche market on the internet is competitive and you won't be the only affiliate marketer out there looking for new prospects and customers. To survive online you need people to visit your website who are genuinely interested in the products and services you are promoting as an affiliate. Discover how you can reach highly targeted prospects with this Free Traffic Mini Course and become a super affiliate in whatever niche you choose.