An Affiliate Marketing Course Guide
The popularity and convenience of products and services now being bought and sold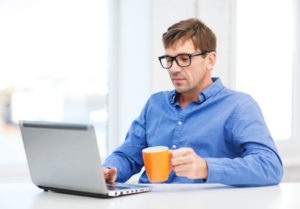 online has made it possible for people from all walks of life to make money with affiliate marketing.
Affiliate marketing is an online business model where you sell other peoples's products and services online and when you make a sale, the product owner pays you a commission.
It sounds simple, but to be successful with affiliate marketing you do need to learn how to find the right products and the right customers to buy them. When you are trying to learn all about affiliate marketing, you can quickly and easily get overwhelmed by the myriad of information out there. You don't know who to trust, which product is actually beneficial, and what step to take next! So how do you chose the best affiliate marketing course?
How To Choose An Affiliate Marketing Course
There are several ways you can size up an affiliate marketing course and tell whether or not it's a good investment for you.
The Reputation Of The Teachers
Look at the reputation of the people who are teaching the course. Before you commit and invest in an affiliate marketing training, you want to know who's selling it. Do they have a good reputation? Does their blog or forum participation show the kind of person you feel you could trust and learn from? If your gut says no, then find someone else to learn from. The last thing you want to do is to buy an affiliate marketing course from somebody who does  not have the quality or ethics of what's taught inside the course.
Is Everything Covered In The Course?
Does it cover everything in a step-by-step fashion? Some courses are notorious for skipping out on certain steps. If you want to make money with affiliate marketing, you need to know all the steps from beginning to end. Does the course teacher assume you already know a bunch of information? If it has an "over the shoulder" or "screenshot steps" list, then it's a good indication that it's a viable product. Does the affiliate marketing course cover the skill sets that you want to learn about? Does it teach about selling digital products, tangible products, or both? Find out before you buy.
How Is The Course Delivered?
What type of course is it – text, video, or both? Think about how you learn best. You might need to "see" a step being implemented in order to grasp it. Or, you might hate video and prefer text and screen shots. It's a personal preference, but check to see what is being offered.
Who Is The Course For?
What level is the affiliate marketing course – is it beginner or advanced? What level are you on? Make sure the two coincide. There are some courses that pick up where beginners' guides leave off, teaching you advanced affiliate conversions, but leaving off the beginner steps like product research, website set-up, etc.
Can You Afford It?
Is the price something you can afford? Never invest in something that will take food off of the table or cause you to have anxiety if it does not produce a fast enough return. You want to be able to enjoy the implementation process and make money with affiliate marketing, not lose the available funds you have.
What Do Reviews Say?
What are real reviewers saying about the product? There are fake reviews and there are real ones. A real review will come from someone who bought the product, implemented it, and is sharing detailed information and results. A phony review will hype what's on the sales page and that's it.
Learn How To Make Money With Affiliate Marketing
There are no specific requirements to making money as an affiliate. It does not matter about your age, education, technical skills or qualifications. However, the secret of how to do affiliate marketing successfully is to have a solid business model, clear direction, training and support.  If you don't know where to start or you're not achieving the success that you want, check out this FREE webcast that provides proven steps for running a profitable online business from the world's first digital marketing academy, specifically created to teach budding online entrepreneurs how to make money with affiliate marketing.