How To Generate More Affiliate Marketing Income
If you've read any of my other articles or blog posts you'll know that affiliate marketing income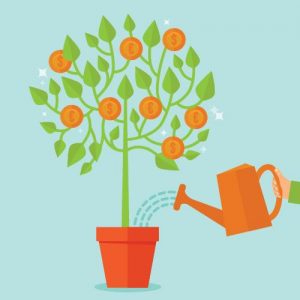 is generated by selling other people's products and services on the internet. It's a great way to start your own online business because you don't have to create or hold stock of any products and the product owner takes care of all the fulfillment, delivery and payment systems.
But just because you're an affiliate doesn't mean you're off the hook for branding. Well, you could take that approach – but it won't help you grow a flourishing online business.
Sure, you might make some sales and commissions but you can increase your affiliate marketing income if you brand yourself as an authority in your niche. Let's look at how you can do that.
7 Ways To Boost Your Affiliate Marketing Income
1. Create Your Own Website
In its most basic format, it is possible to do affiliate marketing without a website. When you have chosen a product or service to sell online, the product owner will provide you with a unique affiliate tracking URL. This is the link that you use to send potential customers to the product sales page. You can send this link to prospects via email marketing campaigns, social media posts, videos or you can buy traffic for affiliate links.
However, when you have your own website for affiliate marketing it helps to establish you as an authority in your niche. It doesn't mean you have to put out your own products. Leaders are guides, not necessarily product creators. Your website can offer product reviews, information about your niche and helpful tips and advice for your target audience.
2. Know Your Target Audience
Determine your ideal target audience that will be more likely to buy what you have to offer. Who are you speaking to? What do they need or want? How can you help solve their problems? Once you determine these factors, show them just how you can help and how your products are sure to benefit them.
Affiliate marketing for beginners is usually all about selling. But as you become more experienced it becomes more about 'telling'. Although you may feel like a salesperson, in reality you are directing buyers to the sales page of the products you are promoting. The product or service owner will have spent a lot of time and money on their sales copy, so leave the selling to them. All you need to do is provide your website visitors with the perfect solution to their problem.
3. Know The Benefits Of Your Chosen Product
Don't stick rigidly to the molds provided by the product owner. Add your own voice and personality to the product. Do your research and go into depth about how exactly the product will benefit your target audience. Saying it's good is not enough. Why should they believe you? Just because you said so? That doesn't work. You must make them want it, actually need it and realize they can't live without it.
People react to perceived value and when you offer them something they simply cannot live without then they will press the buy button. First, define the problem in simple terms. Some people don't fully realize that they have a problem until it's  laid out in simple terms. Then explain how the product or service works and how it can solve the problem. Touch the deeper and emotional aspect that fulfills their need and you'll have a winning sales strategy.
FREE Checklist: Affiliate Marketing For Beginners

4. Offer Freebies
Very often affiliate marketing companies will provide their affiliates with reports, ebooks, videos, etc that they can give away to prospects for free to help promote and sell the products or service. Make sure you use these. Free trials, ebooks, reports and video demonstrations when appropriate can go a long way to convert someone on the fence.
If nothing is provided, ask the product owner if they have any marketing resources that you can use. Remember that you're promoting their product for free and you'll only get paid if you make a sale. If you don't get any support from the affiliate company, it may be worth looking elsewhere of company that supports their affiliates more.
5. Split-Testing, Measuring And Tweaking
A common problem in growing affiliate income is not knowing what areas of your website, emails, blogs, articles, reviews etc maybe problematic. That is where split-testing tools and visual website optimizer tools can help you out. Split testing and general tweaking, measuring and testing the placement of, sales copy, wording, designs and even colours of buy buttons, ads and other calls to action can make a big difference in conversion rates.
Traffic analysis tools can determine where traffic is coming from, the landing pages with the lowest bounce rates and even determine a better target audience to focus on. Sometimes it may take a lot of effort through testing to find the magic formula, but, when you do it can be used again and again to yield the most earnings.
6. Expand Your Markets
If your strategies are working in one market, you can use your knowledge and authority to expand into another niche market. You can earn generous commissions from high paying affiliate programs that deliver exceptional value to the end customer. For example, if you're in the childcare niche, you could expand into a fitness niche for busy parents. Just make sure that you have time to manage the number of new sites that you create.
You can also look into other affiliate programs to boost your commissions. If you're only promoting products via Amazon, for example, there are many other online affiliate income programs that have a huge variety of products that you can sell.
One good way to test a market without putting an entire website together is to use a third party site like Hubpages. If it generates interest from a target market and ranks well, then you'll have an idea of its viability if you were to invest time into building a separate site for it.
7. Don't Hide Behind The Scenes
As an affiliate you'll need to build your confidence in interacting with others as an authority in your chosen niche. This simply means you're a good guide who cares about your followers.  Whenever you're writing your next review or blog post, focus on the emotions of the buyer. What would you feel if you were in their shoes? A consumer will be more likely to buy from somebody if they feel a connection with them.
Some affiliates tend to stay behind the scenes, never wanting to put themselves out there. But if you're willing to brand yourself as the best authority in the niche, you can do very well simply recommending other peoples' products.
Free Training To Help You Boost Your Affiliate Marketing Income
Above are just a few ideas to help to boost your affiliate marketing income. There's also other tactics to consider like ongoing content management, site maintenance, website promotion, blogging and much more. Get your FREE spot today to the best affiliate marketing training online and finally get "the truth" about profiting online and find out exactly why most people struggle to scale their results and make any real money.