Dominate Your Market And Beat Your Online Competitors
The internet is a great place to do business but you're only going to be successful if you beat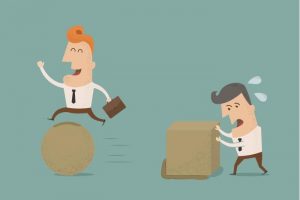 your online competitors and reach your target audience before they do.
You have probably heard that you need to focus your business on the most specific niche possible because it lowers your level of competition, reduces the amount of research you have to do, and gets you in front of  prospects who are closer to making a purchase decision than those in larger markets.
But you can also find success in markets with lots of competition. Sometimes a lot of competitors is a sign of a healthy marketplace. So, how do you beat your online competitors in a big market? And, on the other hand, how do you know when your niche is too small, when a lack of competitors is a sign of no profitability or traffic?
6 Tips To Help Beat Your Online Competitors 
1. Build Something That Lasts
One way to beat your online competitors is to really care about who you are talking to. Aim to build something that lasts. Don't focus on short-term profits. Be patient and reach out to your prospective customers and followers. Solve big problems in their lives, make a difference, and you can create a successful piece of Internet real estate regardless how much competition you have.
2. Provide Food For the Hungry, Water For the Thirsty
There is an old marketing story where an expert in marketing is giving a class on how to beat your competitors. He asks, "If you could have one thing to ensure the success of a business selling hamburgers, what would it be?"
Some answered that they would prefer the recipe for the best hamburger. Others said location was key. Dozens of other very good responses were given. However, the instructor told everyone that their answers were incorrect. He revealed, and rightly so, that the one thing you should look for before anything else if you are selling hamburgers is a "starving market".
Competition really doesn't matter if you're selling food to people that are very hungry. So ensure that you're selling products and services in a niche where your prospects are extremely receptive. This "starving market" will be successful, whether you're competing with thousands of other websites or just a few.
FREE Checklist: Get More Free Website Traffic

3. Go Book Shopping
If you are in a market that is simply too broad you will need to narrow your focus for a much better chance at profitability. Your local bookstore can help you narrow down your market. So can the magazine rack at your local supermarket and online bookstores like Amazon and Barnes & Noble. In all of those cases, you can get a "sneak peek" at chapter titles and other relevant information in just about any book or magazine. All you need to do at a physical bookstore is open a book and look at the chapter titles. Online, the biggest virtual bookstores will allow you to preview the the book contents before you buy it, revealing the same information.
4. Ask Your Audience
If you've already started off in a broad market, you have started to build a customer list and developed some type of traffic. Why not ask them what specific issues they have? Ask your market what problems they've not been able to solve. From the answers you receive, create a solution which will guarantee traffic and sales in this smaller sub-niche.
5. Check Out MeetUp.com
This is a great tip that very few of your competitors will be using. MeetUp.com is a virtual meeting place. It focuses on grouping people of similar likes and interests. Type your broad niche name into the MeetUp search engine and you will see all kinds of physical and virtual meeting places relating to that keyword or phrase. In addition, smaller micro-niche markets are revealed.
6. Let Social Media Help
Twitter, Facebook, Pinterest and the other social media kingpins are treasure troves of customer information and understanding your competitors. Let's say you began an online business in the massive weight loss marketplace. Head over to your favourite social media site and search for "weight loss". Browse the results and you will see dozens, if not hundreds, of potential sub-niches. This also provides a built-in marketplace.
You can see which groups and pages have the most members in a microniche. Facebook's advertising platform has an excellent demographic targeting feature. It helps you identify a popular sub-niche in a broader market and provides a ready-made group of hungry prospects.
Beat Your Online Competitors With High-profit, Low-competition Markets
The key to success with any online business is how you approach your chosen market and the enthusiasm level of the prospects in that market. You probably know now that you should focus on a smaller niche rather than a large one. It is easier to be profitable, you can develop an authority reputation quickly, and your prospects are passionate about what you have to say.  Software like Market Samurai will help you to find those gold nugget opportunities that exist in your marketplace. Beat your online competition and download a FREE copy of Market Samurai to reach high-profit, low-competition markets with devastating accuracy.