What Are The Best Home Based Businesses To Start?
The definition of the best home based businesses to start will vary from person to person. Some people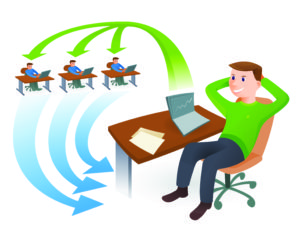 just want a low cost venture that they can run as a side business whilst still working a full time day job. Others may want to work from home full time. But, whatever your reason for wanting a business to start from home, you can't ignore the internet.
Online shopping is a huge multi-billion dollar industry and is estimated to be worth $1.5 trillion by the end of the year. Simple to use ecommerce platforms has made it easier than ever before for home based businesses to take advantage of this explosion in selling online from a blog, website or online store. Here are 5 different online business options to get you started.
5 Top Home Based Businesses That You Can Start Today
1 . Sell Products That Another Business Has Produced
One of the reasons that an online business is the best home business to start is that the set up costs are minimal. You do not even have to design and create your own products. In fact, you don't even need a website to get started, although it is recommended that do create your own eventually. You can get your home business started by selling products or services that have been created by other businesses. These businesses will then pay you a commission on everything you sell. This business model, called affiliate marketing, is the system that a lot of people use to get started online. You don't have to create a product, sort out payment systems or organize delivery as the product owners does all that for you. Your job is to promote the product online to prospective customers. 
2. Create And Sell Your Own Digital Product
If you create a physical product for a traditional offline business you can only sell the item once. Once it's sold, you have to make another one, as so on. But a digital product that a customer downloads to their computer, like an ebook or video course, can be sold again and again. You don't need to be an expert in a particular subject to create a digital product to sell online, you just need to know more than the average person on your chosen subject. You can even use someone else's knowledge by interviewing an expert to help you create a digital product about your chosen subject. You can also outsource the whole production and then put your name on it before you start selling it.
3. Sell Your Services
Freelance websites like Elance and oDesk have thousands of customers looking for people who are willing to offer their skills in return for payment. There is always a need for writers, graphic designers, translators, web designers, marketing and sales staff, legal and financial professionals and many more skill sets. The advantage of online home based businesses that offer freelance work is that your customers can come from all over the world, not just from the area where you live.
4. Set Up Your Own Teaching Website
For some, the best home business to start is a teaching business. Have you ever taken your child to his or her music lesson or extra maths lesson to the teacher's house or gone to a training course for your work that is held in a hotel or business center? These teachers offer a great service but it is only available to people who are willing to travel to the venue where it's being taught. Remember that people use the internet to find information and, if you have skills that you can teach, you set up a teaching website and charge for lessons or online classes that people can attend from wherever they are as long as they have a computer and access to the internet. You can also record videos for people to buy and download directly to their computers, which would be available 24 hours a day, 7 days a week.
5. Writing A Blog
If you have an interest, experiences or knowledge in a particular subject, writing about it online can generate online income.  A blog is an online journal and, as the demand for useful information has grown online, blogging has become very popular part of home based businesses. Naturally you do need to get people to read the blog if you are going to generate any revenue. When you have the readers, you can sell advertising space on your blog to other businesses who want to reach your target audience or you can use Google Adsence where you earn each time somebody clicks on an ad situated on your blog. You can also use the blog to promote or own products or write reviews of other products and link to them using the affiliate marketing business model.
Proven Steps For Successful Home Based Businesses
Some people avoid online home based businesses because they do not think that they have the knowledge or technical skills to get started. But if you can search the internet and use email you already have the basic skills to get started. If you're willing to commit to making it work, you're ready to go. However, it is worth noting that very few people have built a successful home based business without any help or guidance. If you want more help on the best home business to start, check out these proven steps for running a profitable online business.