Has Your Blog Audience Fallen Asleep?
As a blogger, there is almost nothing more important than truly engaging and interacting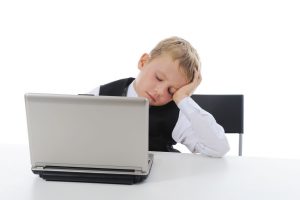 with your blog audience. You want your audience to comment, like, share and sign up to your lists or buy your products and services.
Blogging is an effective way to expand your business, attract more clients, and maintain relationships with your current customers. Every blogger who earns income from their blog knows that the only way you can make money is by keeping your blog audience interested so they keep coming back for more. Without your audience, you won't be making money at all.
So what can you do if you want to grow your blog and wake-up your sleepy audience?
10 Ways To Wake up Your Blog Audience 
1. Post Regularly And Add Variety 
When you post relevant, high-quality content on a consistent basis in a variety of forms such as images, video, text and so forth your blog audience will be more likely to stay interested in what you have to say which will make them keep coming back, sharing and engaging with you. Plus, potentially buying something you created or promote.
2. Call To Action
A call to action (CTA) is so important if you really want to wake up your blog audience. There are different ways to create a call to action. Your CTA can include asking your audience to share, like, follow, join, sign up, buy or whatever it is that you want them to do. If you really want them to take action, clearly state what you want them to do. People are relatively lazy, so make it easy for them. You'll get a better response.
3. Ask For A Comment
A great way to get your audience to act and come back for more is to generate more comments to your posts. You can get people to comment more if you ask them to.
4. Be The Devil's Advocate
Try being controversial. This can be risky so be mindful of the potential repercussions. Look to call out a situation that makes you mad, sad, and upset. But, try to end it on a positive note if possible.
5. Put A Subscribe Button On The Page
A great way to get people to subscribe for your future blog updates is to put an email opt-in box on your page. This means that you don't have to rely on them coming back to your blog. You can simply email them when you have posted new content. Let them know the benefits of doing so, and you'll get more sign ups.
FREE REPORT: How To Write Epic Blog Posts
6. Offer A Content Upgrade
A content upgrade is nothing more than a special process where you deliver bonus content in exchange for someone subscribing to your email list. A content upgrade is bonus material that is relevant to whatever content your site visitor is reading, viewing or listening to on a particular page or post.
7. Ask Them if They Want To Learn More
Ask your readers if they want to learn more. Then using an attractive "learn more" button will entice the reader to click. On the learn more page it can either be more information or you can make it an easy one step opt-in box so that you can send them more information via email.
8. Give Them A Special Offer
If you've talked about specific products or pain points in the blog post and you know about a product or have created a product that will help them, make them a special offer at the bottom of the blog post.
9. Use Images 
People get bored without interesting things to look at. In the case of your blog, you also want the images to be relevant. You want them to expand on your point and help your audience not only understand but to remember the information you provide. Infographics, memes and charts are a great way to explain hard concepts to any audience. A great infographic software to try is Piktochart.com. You can also use programs like Canva.com to create amazing images for your blog, website or social media audience.
10. Don't Forget Video
Today, video is one of the best ways to create a loyal audience as well as engage with them. They love seeing your face and feeling as if they know you. You can create video the easy way or the hard way. Easy – use your phone and decent lighting. Hard – buy professional equipment. Either way, video will get great results.
Ready To Use Content To Wake Up Your Blog Audience 
The task of building a blog audience is easier when you have great content. But writing for an audience with new blog posts, articles, ebook content, etc can take a lot of time and research. Also hiring a professional writer is often too expensive for many online entrepreneurs. That's why one of the most useful tools that you can have when you're  building a blog site is Private Label Rights content (PLR). PLR provides high quality pre-written content that you can use and edit in any way you want and even put your name as the author. This free starter pack of PLR Blog Posts, Articles and Videos will help you to provide fresh content to your blog audience right away.