6 Steps To Build An Email List From Scratch
When you build an email list of subscribers, you have a built in stable of interested customers and prospects. These are people who will buy from you, tell others about your business and tell you how your business can be improved.
Regardless of what industry or niche you are working in, don't keep saying to yourself "One day I'll start to build my list". Building an email database should be your top priority.
On any day of the week, your customers may or may not visit your website, blog or one of your social media pages. But with few exceptions, customers check their email every day, often several times during the day, if not the hour!
Research shows that 67% of marketers around the world rated email as best online marketing method. If you don't build an email list, you won't be able to directly communicate with an audience that is interested in you and your products, services and offers. Below are the 6 steps for email list building.
How To Build An Email List From Scratch
1. Look For Something Your Target Market Needs
Your first step is to look for topics and information that your target market needs. You can use the following strategies to search for ideas:
Search in niche forums.
Use a tool like Market Samurai
See what your blog readers have asked you about in your comments section.
Check the comments of your competitors' blogs.
Look in niche websites to see what's hot.
Use sites like Yahoo Answers to see what people are asking.
And of course you can always just come right out and ask people what they need.
2. Offer Something Of Value For Free
Once you have an idea on what your audience are looking for, you need to offer them an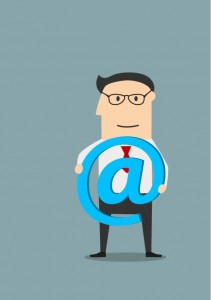 element of that information for free. There are a number of ways you can do this. You could provide a report, an ebook or a video series that provides real value and helps your subscriber to solve a problem that they have or will make their life easier.
You can do a series or access to a free course. You can compile a PDF file, give them access to a podcast download, or send them a series of videos. You can also give them the ability to sign up for a free membership area in your website. Even limited membership access could be a perk, and if you have a paid area, you might find that giving them a sneak peek helps convert them into customers for you.
3. Set Up Proper Email List Building Software
Setting up good email list building software is important because it helps you build an email list right from the very beginning. This software is often called an autoresponder. It will enable you to automatically deliver a sequence of messages to your audience, see which of your messages are getting opened and clicked, create newsletters, target different sections of your database, track your performance as well as collecting, managing, and segmenting your database.
Many marketers choose to use the AWeber autoresponder system. It provides a vast number of tutorials on list building techniques along with a simple, step-by-step walk-through with prompts when you're setting up your system. You can trial it for 1 month for free and thereafter it only costs $19 a month if you decide to continue on with it.
FREE REPORT: Write emails that get opened (& how often to send them)
4. Set Up A Squeeze Page 
When you build an email list you need to have a webpage that can capture people's email address. This is called a squeeze page. This is the page that use to offer your freebie and for people to access it, they have to enter their email address. Once they do this, your autoresponder will automatically send your freebie to your new subscriber.
The squeeze page should have a nice graphic presentation. Everything should be above the fold, so that no scrolling is necessary. You want to have one main headline and one or two sub-headlines on the page. Directly across from the email opt in form, you can either have a list of bullet points or a built in video that encourages people to sign up for your freebie. You want this to be short, yet create a sense of urgency about how they can't wait another day to get started.
5. Drive Traffic To Your Squeeze Page
So now you have something of value to give away as an incentive to sign up to your email list, you have a way of automatically sending it to them and you have a page where people can enter their email to get access to it. Your next step is to drive traffic to your squeeze page.
There are two ways that you can do this. You can use paid traffic methods or you can use free traffic methods. Paid traffic strategies, such as pay per click marketing, solo ads, banner advertising and social media advertising will get you instant traffic but the traffic will stop once you stop paying for it. Free traffic strategies, such a social media posts, blogging, video marketing and search engine optimization, take longer to get results but can provide a steady stream of traffic over time.  The best course of action is to have a good mix of both paid and free traffic.
6. Continue To Provide Value 
As you build an email list you have to keep people subscribed. You don't want them leaving after just a day or two – or even a month or a year. You want them to be long-term subscribers. This means that you have to continually provide value to your subscribers,
Different people have different ideas as to what annoys them or what they're looking for. For example, some people hold the frequency of communication to be one of the most important issues. Frequency is different for everyone. There's no one right or wrong answer for this question.  Frequency can be whatever you want it to be. If you don't email often enough, your list will forget who you are and why you're contacting them, but don't email just to send something out. Email when you have something important to say.
Make sure there's a good balance between the times you email to push products and services and the times you're just sharing good information. This frequency can be a couple of times a week, depending on your list and its purpose, in addition to what you promised them when they opted into your list initially.
Handy Tool To Help You Build An Email List
Building an email marketing list from scratch is mostly about sharing value. But it's also about getting subscribers onto your list and treating them in a way that helps you retain them and getting them to buy from you when the time comes. If you don't have a way of capturing emails, you're not going to be able to build an email list. But creating eye-catching squeeze pages can be challenging if you're not a graphic artist or web programmer. This Lead Capture Page Software makes everything easy for you. It provides a range of templates that are simple to edit and which are fully hosted, mobile friendly and will integrate directly with your autoresponder software. Start your free trial today and see how quickly and easily you can build an email list.