Why Build Your Blog Audience?
The reason that you should build your blog audience is that blogging is an effective way to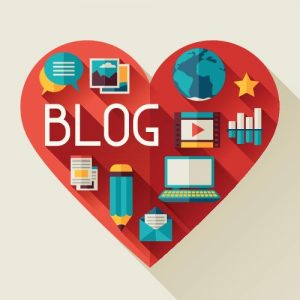 expand your business, attract more clients, and maintain relationships with your current customers.
But, how do you make your blog visitors into loyal followers? It really boils down to posting relevant content and finding ways to remind them about you via email, social media and even ads.
Let's look at 3 simple ways to build your blog audience so that they'll love your business and keep coming back for more.
3 Simple Ways To Build Your Blog Audience 
1. Post More Content
You've probably heard this before. You have to post more content to build your blog audience. But, it's not that simple. You can't post anything and end up with fans following you and begging for more. The key is knowing your audience, who they are and what they need to know. Content needs to be relevant and of a high quality to be effective.
Relevant. The only way you can ensure that your content is relevant is if you do the work necessary to get to know your audience so that you can deliver the type of content they want and need.
High Quality. While you do not have to be perfect, don't just slap up anything. A lot of bloggers buy Private Label Rights content which is pre-written content created by professional writers. If you do use PLR, ensure that you rewrite it a little to make it your own. If you outsource any writing, edit the writing and put your voice into it. Also. always add a watermarked image so that when it's shared it comes back to you.
Consistent. Finally, post content on a regular basis. You don't have to blog every single day. You want to be writing for your audience a few times a week and provide them with content that they'll find useful. Otherwise, they might get bored and stop coming to your blog.
Posting relevant, high-quality content on a consistent basis doesn't just have to be in text format. Try using in a variety of forms such as infographics, images, video, audio or podcasts as well as text. This variety will keep your audience interested in what you have to say which will make them keep coming back, sharing and engaging with you. Plus, potentially buying something you created or promote.
2. Promote Your Content
Just posting content is not enough. There are more than 100 million blogs in existence. That's worse than a needle in a haystack. In order for anyone, including your customers, to find you, you're going to have to promote each piece of content that you post.
Social Media. Whatever social media your audience uses, you need to be using. While you can't use them all, you can at least choose the top three that is most popular with your audience. Share and engage about your blog posts to bring more traffic and create more interest in your content.
Make it Simple to Share. Don't make it hard on your readers to share. Get a social plugin that enables you to add share buttons at the top and bottom of your posts. Make it a point to ask your audience to "click the like and share buttons." Make it part of your call to action.
Get Them on Your List.  In addition, put an email address opt-in box on every page to encourage your readers to sign up for your newsletter. When somebody is on your email list, you can send messages to them whenever you want, rather than waiting for them to visit you site.
Don't not forget to engage with your audience when they comment on your shares. You don't want communication to be only one way. You want to build relationships so that they don't just want to read your blog due to the great information; they want to read it because they care about you.
FREE REPORT: How To Write Epic Blog Posts

3. Give Stuff Away
People will be more inclined to provide you with their email address if you offer a freebie or give-away in return. This process of collecting emails, or list building, can make all the difference between a profitable blog and a struggling blog. You want to collect email addresses from your audience so that you can market to them via email. When you give away small things to help them accomplish their goals, you'll endear yourself to them in a new way. To give away stuff without giving away the farm, follow these tips:
Use PLR. To create your freebies consider using Private Label Rights information that will appeal to your audience and help further your relationship.
Solve One Problem. Help them solve one small problem, not the entire kit and caboodle. You want them to come back for more, so in your freebie give them enough to show them your work quality and skills but don't give them the farm.
One Customer. Don't try to please everyone. Make each of your offerings focus on one persona / customer at a time. Create a profile for the ideal customer and direct your product only to the people that fit the profile. This works better than trying to appeal to everyone.
Make it Short . A checklist, a spreadsheet, a simple ebook. These things won't take much time and money for you to create but will make a huge impact on your audience member if you are careful to ensure it fits your audience.
Remember that what you give away for free will represent the value of the products or services that you are selling via your blog. If you give away rubbish that provides no value, your audience will place little value on your business. When they value you more, they'll be more likely to come back. Remember inside your opt-in provide a link back to your blog, and to other products, services and offerings you have.
Build Your Blog Audience With Better Content
The better the content on your blog, the faster you'll be able to grow your business. But writing content for your blog posts, website, articles, ebook content, etc can take a lot of time and research. Also hiring a professional writer is often too expensive for many online entrepreneurs. That's why one of the most useful tools that you can have when you create a blog is Private Label Rights content (PLR). PLR provides high quality pre-written content that you can use and edit in any way you want and even put your name as the author. Start to build your blog audience with this free starter pack of PLR Blog Posts, Articles and Videos.