How To Build Your Own Online Business
When you start to build your own online business it can seem a little overwhelming. But just like any new project, if you have the right ingredients in your business mix, your journey to success will be that much quicker.
To get your business online, it's not essential to have every ingredients listed below fully in place. However, if you take time to study the top internet businesses that are profitable, you'll see that they do have an element of each in some way or another.
So, as you start to build your own online business, keep a note of these 5 things that matter.
1. Have A Solid Business Model
The first thing to understand there is no 'secret shortcut push button solution' to making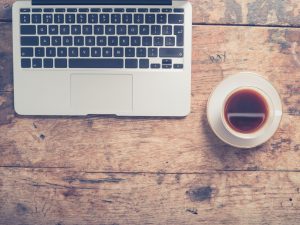 money online. So what is a solid online business model? It's about having a dependable and safe mix of income streams. It is the prefect mixture of recurring income, affiliate income and high ticket income.
Recurring Income: Also known as passive income. This is where you sell something once (like a software product or membership website subscription). You earn income every month for as long as your customer continues to use it.
Affiliate Income: This is where you sell other people's products and services and earn commission on everything you sell. The product owner takes care of all the payment systems and delivery. Your job is find the customers, so you will need to build
a list of prospects before this is available to you (see point #2 below).
High Ticket Income: These are products or services that generate you an income in excess of $1,000 per sale. There is always a market of people who are prepared to invest serious money so that they can transform their life faster and easier in the most effective way possible.
2. Implement A List Building Strategy
If you've been researching how to build your own online business, you will have heard the saying, "The money is in the list". This means that if you have a database, or list, of prospects, they are the ones who will most likely buy from you. But that is not strictly true. If that was,
you could get the phone book out and there is your list! But they don't know you and you don't know what they want. So to be able to 'monetize' your list you have to have a relationship with your list. You have to have what they want. Solutions to their problems, answers to their questions, tools or services to improve an aspect of their lives.
To build a list you need a couple of things.
Autoresponder Software: This will enable you to collect email addresses. You can build a relationship with your prospects via email so that they come to know, like and trust you.
Something Free To Give Away: This is something of value to offer a new prospect in return for their email address. Like the report in the blue link below.
FREE REPORT: 5 Must Have Ingredients To Build YOUR Online Business FAST!

3. Use A Proven Marketing Funnel
The marketing funnel starts where you offer your prospects something of value for free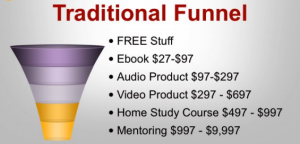 (like an ebook or report) in exchange for their email address. Your job is then to get your prospect to come to know, like and trust you so that they are willing to make that important first buying decision.
The first purchase is usually a product between $20 to $100. Then as your prospects learn more about you and your products they move 'through the funnel'.  The logic of a funnel suggests that as products get more involved and expensive, less people will buy them. You'll find that customers qualify themselves as they move through the funnel. Some of your prospects will go all the way through, many will not. But as you build your own online business, the money and profit will most likely come from a small number of customers that buy your higher level products.
4. Master Paid And Free Traffic Strategies
Visitor traffic is lifeblood for an online business. If nobody is visiting your website you're not going to be able to sell any of your products or services.  But traffic is nothing without conversion. Driving traffic to your website is fine, but if people are not joining your list or buying your products, what have you really achieved? There is free traffic and paid traffic. Free traffic for online businesses comes from the likes of social media, search engine optimization, video marketing and blogging. Paid traffic includes pay per click advertising, banner advertising, social media adverting, ezine advertising and solo ads.
5. Get Access To A Community With The Right Mindset
One of the challenges when you build your own online business is that we have an 'employee mindset'. We are used to being told what to do, how to do it and when it has to be done for. It takes some effort and work to become an online entrepreneur. And it can get lonely and frustrating. When you're building an online business you might not have the support from your partner or family that you would want. That's why it's important to seek out like-minded entrepreneurs who can give you the support and motivation to help you succeed.
Free Crash Course To Help You Build Your Own Online Business
Some people learn how to start a business online so that they can run it as a side business at home. Others work online full time and enjoy the freedom and flexibly that an online business can offer. Either way, when you build your own online business your journey to success will be lot quicker if you include the 5 ingredients above. If you want to know more on how to build a profitable online business, this free crash course covers the essential steps to starting an online business that you can easily follow, even if you have no previous experience or your own products sell.