The Road To Building A List of Prospects
As you start your online business journey, one of your most important tasks is building a list of prospects. This is a list of emails of people who are interested in buying your products and services. When somebody provides their email address, they are granting you permission to send them information about your business.

People will buy when they are ready to buy, not when you are ready to sell, so it's vitally important to keep in contact with them. The most effective way to do this on a regular basis is via email. While you can't force anyone to sign up, you can gently encourage them to sign up by showing the benefits of doing so. Let's look at the 6 steps to building a list of prospects.
6  Steps To Building A List of Prospects For Your Online Business
1. Choose Your Target Market
To identify your target market you need a very clear and distinct picture of your prospect. This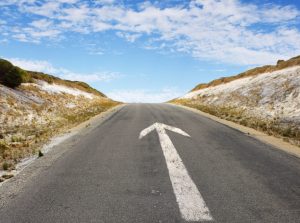 is known as your customer avatar. Your business can't sell everything to everyone and the more focused you are your customer avatar, the easier it will be to connect to that individual. People buy from people they know, like and trust. If you want to reach out to people in their early 20s who enjoy video games and you're a person in their mid-50s with a gardening supplies business, it's going to be very difficult to get your audience to relate to you.
Always remember you are selling to one individual at a time, not a group. Target your marketing to a smaller subset of a larger group and your marketing efforts will have a much better chance of giving you the results you want.
2. Offer Something Of Value For Free 
When building an email database it's very unlikely that somebody from your target audience group will give you their email address for nothing. You have to offer them something in return that they will want. The online business world is competitive and there's a lot of free information out there. That's why your freebie has to be something that provides real value to your target audience. How can it help them solve a problem or make their life easier?
What can you give away? The easiest way is to provide something in a digital format that your new email subscriber can download or get access to immediately after they join your email list. This could be a good quality report, checklist or e-book, video tutorial, audio file or even a newsletter that you send out to your subscribers. Remember though, what you give away will reflect back on the standard of your business' products and services. If you give away rubbish, your business will be perceived as rubbish.
3. Create An Email Opt-in Form
The next step for building a list of prospects is to create a way to actually collect email addresses. For this you will need list building software called an autoresponder. An autoresponder enables you to capture and manage your email prospect list format.
Your autoresponder can create an email capture box that you can put on your website home page. That means that whenever somebody visits your website, they will see your free offer and will able to enter their email address into the email capture box to receive it. Another way to capture emails is to create a lead capture page. This is a webpage that is still connected to your autoresponder but separate to your website. Its only objective is to capture email addresses. It needs to clearly show the value of your product or service and how your free offer can benefit them. We'll look at how to get prospective subscribers to your website or lead capture page in point #5 below.
FREE Report: List Building For Profit

4. Set Up Your Autoresponder
Before you drive traffic to your website or lead capture page you have to ensure that the email messages that you will send to your new subscribers are set and ready to go. There is no point in gathering email addresses and doing nothing with them. You can set up a series of emails in your autoresponder to automatically send out your freebie when they sign-up. Then it sends out a series of follow-up emails that continue to provide value.
Research shows that it takes at least 7 emails before most subscribers will act. A successful email campaign will come from providing value and building a relationship with new subscribers as soon as possible. Start your follow-up emails with a friendly welcome message and make sure you provide the download link to your free offer in your first email.
Your remaining follow up emails should continue to provide value. Don't just continually send out sales messages. Pre-load your autoresponder with a series of helpful emails that will create a desire for your subscribers to want to know more.
5. Drive Traffic To Your Landing page
To get people to join your email list you have to drive traffic to your website or landing page. There are basically 2 types of traffic. Traffic that you pay for with money and traffic that has no financial cost.
As a general rule, you should only pay money for traffic that you are directing to a lead capture page. This is traffic that you control and the primary objective is to obtain the visitor's email address. The page should have a brief summary of the benefits of your product and service and must offer something of value to the visitor in exchange for their email address. There should be no links to any other web pages or offers as these will distract the visitor. Paid traffic should be reserved for situations where you are promoting something very specific that has already been proven to convert. Otherwise, stick with traffic that has no financial cost.
Traffic That Has No Financial Cost 
As a general rule, you would use so-called 'free website traffic' strategies to drive traffic to your website, blog, Facebook Group, online articles and videos or other information-style website. All of these pages should feature your email list opt-in form or, at the very least, contain a link to your lead capture page.
It's worth noting that there is no 'free traffic' as such because all traffic has a cost whether it's in actual money or the time you have to spend in actually generating it. But it's worth investing time into building a list of prospects via these non-financial cost web strategies. If you can't get the results you want, put money into paid list building opportunities. But never get too obsessed with one or the other to the point that it destroys your bank account or your momentum for success.
6. Keep Delivering Value
When someone signs up to your list, you've no guarantee that they will remain as a loyal subscriber forever. You have to work to keep them – and that means proving value. Share helpful tips that stem from your interaction with your audience. If someone emails you asking a question, turn that email into a blog post and help the others on your list who are struggling in the same manner.
Build Your Email List With Eye-Catching Lead Capture Pages
Building a sales prospect list is one of the most important aspects of creating a successful online business. It costs 6 to 7 times more to acquire a new customer than retain an existing one. That means that building a list makes economic sense and will ensure the sustainability and longevity of your online business.
However, one of the most challenging parts about building a list of prospects is creating eye-catching and effective lead capture pages pages. But this Simple Lead Capture Software has everything you need. It provides a range of templates that you can easily edit and which are fully hosted, mobile friendly and simple to integrate with your autoresponder software. They also provide full conversion analytics and are SEO ready. Start your free trial here and see how quickly and easily you can create your own lead capture pages and build your email list.