Why Is Building An Email List Important?
The top priority of every online business owner is building an email list. This is a list of past,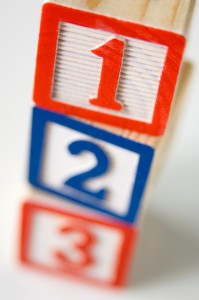 present and future customers who are interested in your products and services and have given you permission to send them more information via email. When somebody has willingly given you their email address, it means that they are genuinely want to hear from you. And you can email them information about your products or services whenever you want, for free.
Email marketing is the most effective way to communicate with your prospects. Just think about how often you check your own email.  If you've not started building an email list, it's not too late.  Here are the 3 basic steps to follow.
3 Steps To Building An Email List
1. Get Your Website Or Blog Up To Date
Firstly, to start building an email list, you're going to need a website or blog as the base for your online business. If you've not already got a website or blog, free blogging platforms like WordPress.com or Blogger are the simplest ways to get started. You can also purchase a domain name (the name of your online business) and website hosting from one of the many online registrars. Then install WordPress or some other website building platform. There are plenty of online step-by-step videos and tutorials that teach you how to build a website or blog from scratch and get it live on the internet.
If you're worried that your tech skills are not up to the task or that you simply want to get moving much quicker, you can outsource the whole project. You can find companies and freelancers online who can build and handle the entire website building process for you. Check out websites like Elance and UpWork.
2. Offer Something Of Value For Free 
Visitors will come to your website because they think that you can help to solve some important problem. Your website should provide a lot of valuable information relative to some big need in your marketplace. However, once they leave your website there is no guarantee that they will ever return. So you need to capture their email address so that you can go to them, rather than hoping that they will come back to you.
But it's unlikely that you"ll be able to start building an email list without offering your prospects something in return. One of the key email list building strategies is to offer your prospects something of value for free, in exchange for their email address. And this is simple to create:
Open a new text document.
Create a list of tools and resources, a problem-solving checklist, a template, an in-depth how-to article, a quick-start guide or some other valuable, text-based piece of content.
Make sure the content matches closely and specifically the topic of your website.
Add graphics and or video as needed. Bullet points work great for reader engagement and effective step-by-step teaching.
Add your logo, contact information and links back to your website or blog.
Save in PDF format.
That's it. That is how easy it is to create a freebie targeted to the information content on your website. This is PDF file is then uploaded to your website. When somebody signs-up to your list, you can send them the link to download the freebie from your website.
FREE REPORT: Write emails that get opened (& how often to send them)

3. An Autoresponder Service
As more people visit your website and request your freebie, the more it will become impossible for you to do this manually. So you need to sign-up to an autoresponder service (I recommend and use AWeber). Using your autoreponder, you will be able to create an email capture form that you can place on your website or blog. You can then set up your autoreponder to automatically send an email with a link to download your freebie as soon as somebody has submitted their email address on the form.
Select the publishing option for hiding this information from search engines. This will ensure that someone must sign up to your email list to receive your freebie. Share your website and the offer of your freebie with social media sites, forums that you are a member of, and everywhere possible online.
List Building Strategies
Quality is what matters here, not necessarily bells, whistles and graphics. Smart marketing is always based on what your prospects want, not what you desire. Give prospective customers in your market what they are looking for. Solve their problems, make their lives easier, and you will never want for customers.
Think from the point of view of your readers. What does your audience need? If you have done keyword research in your niche, and been involved in your particular market for any amount of time, you know the big questions which keep your prospects up at night. Answer those questions in your freebie, and your opt-in conversions will soar.
Start Building An Email List Today (Free Trial)
Autoresponder software allows you to easily grow your list. You can use it to collect email addresses, contact old clients, communicate with existing ones and cross sell your products and services. AWeber is generally acknowledged as one of the leading autoresponder services. It provides step-by-step tutorials on how to grow your email list and it's simple to integrate with your blog, website and social media pages. For a free trial of AWeber's autoresponder software visit the Official AWeber Website.