What Can You Do To Make Business Online More Successful?
When you're running an internet business, you'll always be looking for ways to make your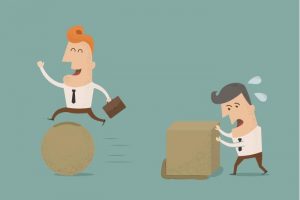 business online more successful. That often means finding new leads, getting more sales, offering new products and services and providing a high level of value to your customers.
To build a legitimate online business you need a solid business plan with a clear idea of what you are selling and who you are selling it to. You'll need to clearly communicate why somebody should buy from you, rather than your competitors and know how you will get your messages in front of your prospects. But with so many different things to do, it's difficult to know where to begin to make your business online more successful. Here are 6 steps to help you get started.
6 Steps To Make Your Business Online More Successful
1. Avoid Being Overwhelmed By Too Much Information
It's very easy to be overwhelmed by all the information out there about making your business online more successful. You could end up trying to take in too much and, in the end, feel that you just don't know where to start. To avoid the pitfall of feeling that you have too much to do, you need to break it up and set attainable weekly goals. Limit information and most important take action. You can learn endlessly, but you will not find success until you take action.
2. Check Your Website SEO
It can be very tempting just to jump head first into getting your website online. You fill your pages with information about your products and services and then sit back and wait for people to come rushing to your website. But don't forget about your website SEO (Search Engine Optimization). SEO is the process of organizing your website so that it appears in search engine rankings for certain keywords. Good SEO is important if you want to make your business online successful. Make sure you spend enough time to create your pages correctly. Identify long-tail keywords, build quality backlinks, and regularly post quality content.
3. Don't Forget Social Media
Social media has evolved from a way for friends to keep in touch and post pictures of their latest meal. If you need more business, social media marketing is a powerful internet marketing tool. Social media can help you get your message to literally billions of people around the world. Social media platforms also let you pay for advertising so that you can reach an audience that, otherwise, would be very difficult to reach. What's more, you can target the specific demographics of your potential customers.
FREE REPORT: 5 Must Have Ingredients To Build YOUR Online Business FAST!
4. Stop Procrastinating
Many new online business owners sometimes find it a challenge to get motivated and get things done on time. One way to avoid procrastination is to set clear and obtainable goals for yourself. These should be focused on daily goals, weekly goals, and monthly goals. Try to keep to deadlines, but also, allow yourself enough time for rest and to get your thoughts together.
5. Have Your Own Domain Name
Domain names are not expensive, and you shouldn't make the mistake of not registering your own domain. It can be tempting to go for a free hosting site and domain name with providers like Blogger or WordPress.com. But, in the long run, this can hold back your business. There are several reasons for this, the most important being that when you use these free sites, you really never own your site and you are always under their control. They can make changes to their service that may seriously affect your business
6. Keep An Eye On Your Analytics
The only way to properly know if your marketing strategies are working is to use analytics to track your visitors' actions. You can use analytics to tweak campaigns, change tactics, and improve on what is already working to make your business online more successful. If you suddenly notice a drop in your website's visitors, analytics will help you find out what went wrong.
Find The Customers That Will Make Your Business Online More Successful
To grow your business you need to get your messages in front of your target audience where they will see them. One of the best ways to do this is by using ezines. Ezines are highly targeted electronic newsletters which are delivered via email to people who subscribe to them. Just like regular printed magazines, an ezine reader is interested in the information and articles contained in the ezine. Almost every successful marketer either publishes an ezine or uses ezines in their business. Check out this free Ezine Formula Report that reveals how you can make your business online more successful using the marketing power of ezines.