How To Buy Website Traffic 
Many people believe that all website traffic should be free, but this is not always true. It can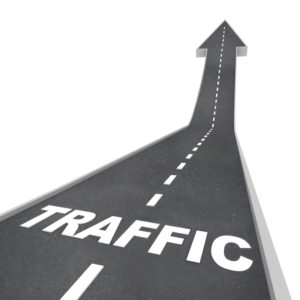 be worth it to use paid traffic methods if you have a product that has been proven to convert very well.
In my last article, I looked at 6 ways to get free website traffic. To increase website traffic you need to combine proven free sources with proven paid sources. This will generate you high quality traffic from people who will join your list who will buy the products or services that you recommend.
When I buy website traffic, I use one main rule when deciding whether or not to use paid traffic:
If I am selling a product of my own, or if I am sending traffic to a page that focuses on selling a specific product, I will try paid traffic.
This means that I would send paid traffic to a sales page or a review page, but I would not send paid traffic to a blog, forum, article directory, or other information-style website.
Paid traffic should be reserved for situations where you are promoting something very specific that has already been proven to convert. Otherwise, stick with free traffic.
How To Buy Traffic to Your Website
You can buy traffic for your website with things like banner advertising, solo ads, re-marketing , pay-per-click and social media advertising.
Banner Advertising
Online banner advertising consists of rectangular advertisements which appear on websites. They all share the same common objective to encourage a viewer to click on the banner and then be taken to the advertisers website or squeeze page.
The cost of banner ads is calculated in two ways. One is for a set period of time (normally 30 days) and the other is for the number of impressions (ie, how often the ad is shown). If you are just starting to buy banners advertising, I would recommend that you opt for a set period of time. This way you know exactly how much you are spending over what period of time.
To save contacting loads of different websites to find out their rates, there are several 'broker websites' who provide all the information you need to buy traffic for your site with banner advertising. (See www.buysellads.com)
Solo Ads
One of the most effective ways to buy unique hits and build your list of potential customers is with solo ads. A solo ad is where your selling message is emailed by a solo ad vendor to a predetermined number of people on the vendor's list who have already expressed an interest in your market. Your message is sent on its own, without any other messages or advertising, hence the name 'solo' ad.
Often a list owner will guarantee a set number of 'clicks'. This means that they will send out your message to a pre-determined number of people and guarantee that these people will open your email message and 'click' on the link to your website or landing page.
Pay Per Click Advertising
Pay Per Click advertising is where you bid on search engine keyword words or phrases relevant to your target market. The more you bid (or pay) the higher your ad will appear in the listing. You pay when the ad is clicked.
You can control the number of paid clicks your website or landing page can receive in any given day. This is advantageous for the small online business owner as you will be able to control how much money that you are willing to spend on pay per click advertising each day.
Remarketing
Remarketing is a feature that lets you reach people who have previously visited your site, and show them relevant ads across the web or when they search on Google. When people leave your site without buying anything, for example, remarketing helps you connect with these potential customers again.
Ezine Advertising
An ezine is an online newsletter or magazine that is delivered to subscribers via email. Ezine advertising is the ultimate targeted website traffic tool as you can reach people who are already interested in your product or service.
The secret to success with ezine advertising is to match the content of the ezine to your offer. This means that if an ezine has a large readership it does not necessarily follow that it will appeal to your target audience. Sometimes, you are better to buy an advertisement in a smaller, more targeted, ezine which will get you better results and cost you less.
If you want to save time, money and effort with a proven ezine advertising service, check out the Directory of Ezines.
Free Website Traffic Mini Course
Anything you do online is pretty much useless if you you don't know how to direct traffic to your website. It doesn't matter how many pages you create, how much time you spend researching or how much content you write if you never get website traffic. Getting traffic is one thing but getting targeted traffic is another. You need people to to visit your website who are genuinely interested in your products and services. To find out how you can get highly targeted visitors to your website, this Free Traffic Mini Course will help you to solve your website traffic problem so that you find your ideal customers and sales.