5 Steps That Make An Online Business Successful
Since I started my own internet business a few years ago I have learned that to make an online business successful, regardless of what niche you are in, there are certain steps every online entrepreneur has to take. These steps are not highly technical and can be put in place by anyone, as long as they have the determination to succeed.
The internet is a thriving marketplace. There are over 3 billion people online, and this number is growing by the day.  If you've never bought something online, you will know somebody who has. The customers are out there! You don't have to be an expert with computers to start an online business of your own and you don't even have to produce your own products or services. But to make an online business successful, you do have to put the following steps in place.
 5 Steps To Make Your Online Business Successful 
1. Always Provide The Best Possible Value
Your online business allows you to reach out to customers from all over the world. But this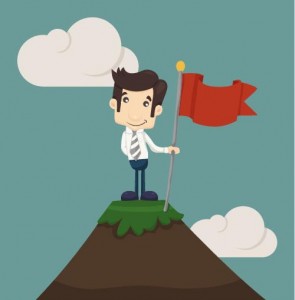 also means that other online businesses can do the same. There's a lot of competition on the internet there will be other businesses selling products and services that are very similar, if not the same, to yours. You need to give your prospects a reason to want to buy from you and the best way to do that is constantly provide the best possible value to them.
It's about establishing yourself as trusted authority or adviser before they buy from you. This can be in the form of your emails, articles, blog posts, social media posts, videos, podcasts, website content, advertising – anything that reaches out to your target audience. What are the problems that they face everyday? How and what can you do to help them?  By providing useful information to your prospect they will come to know, like and trust you. And when they are ready to buy, you're the first person they come to.
2. Only Sell Top Quality Products And Services
There are many different types of internet businesses that make money. Apart from selling your own products online, you can sell other people's products too, using the affiliate marketing business model. This model is a great way of starting business on internet. And it's not just products that people sell online. There are freelance services, membership sites, blogging websites and more that generate online income. The key factor is to only sell top quality products or services. It takes a long time to build your online reputation, but it can be shattered very quickly if you sell poor quality items that are over priced and don't deliver what you promised.
3. Continually Build A List
List building is the process of collecting the email addresses of people who have expressed an interest in your products or services. It is one most important factors that will make an online business successful. The easiest way to build a list is to offer your target audience something of value in return for their email address.
4. Be Available
Would you buy something from a website that had no information on it about you can contact the website owner? If you wouldn't why should you expect your customers too? Make sure that your website has a 'Contact Me' page which allows people to, at the very least, get in contact with you via email. Don't hide behind your website and expect people to buy from you without knowing that you really exist. If somebody comments on your blog post or on one of your social media updates, take the time to respond. As your business grows, this may become more challenging but that's when you can start to employ a virtual assistant to help you with your customer communications.
5. Keep Learning
To make any online business successful you need to be continually learning. Once you've launched your online business, you can't sit back and think that you know everything that there is to know. As you build your business, build your knowledge. Remember that success is a journey, not a destination. What worked in the past may not always work in the future and you have to be willing to learn new skills and keep up to date to remain competitive.
Proven Steps For Making Your Online Business Successful 
An online business is a business you can start from home, as a side business to supplement your existing income or it can be an extension of your existing offline business. Although the online business world is thriving, very few online businesses have become successful without some sort of advice or guidance. When you know how to set up an online business in the most effective way, your journey to success will be much quicker. This free webinar from the Digital Experts Academy reveals the proven steps to making your online business successful so that you can grow your income with a business you are passionate about.