Choosing a Domain Name
Choosing a domain name is very important for an online business. For physical  'bricks and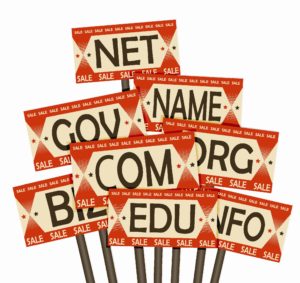 mortar' businesses you can tell them apart because of their structure, window displays, or signs. You can easily see the difference between a bank, a florist and a music shop.
But on the internet, it's different. Your domain name (ie, the words in your website address) is the only clue to your online business and that's why choosing a domain name carefully is very important. You don't have any visual clues: no location, no look, and no store design. Instead, users have to type in a word or a set of words to reach your website.
 Here are some useful domain name tips.
How Do You Choose A Good Name For A Website?
Your prospective visitor has no way of knowing what your website is about until they find it and reads its contents. How can you ever tell that Amazon.com sells books? When you are choosing a website name, it can make a big difference to your success online. A good domain name is the best asset you can ever have and it can make your business stand out in the crowd.
There was early rush by online entrepreneurs to buy domain names that actually said what their online business was about and what you could find on their website. Today it is challenging to find a generic name (like toys, books, holiday, money) for your website so you have to think a little more carefully about choosing a domain name.
Names for Websites
However, generic names do not necessarily give you the online authority that you want from your website. Branding has always been about proper names: McDonald's did not name their store Hamburger. Hertz is not called Car Rental. FedEx is not Mail Carrier etc.
For better branding results, when you are choosing a domain name it should be memorable and easy to remember.
short and simple
unique
easy to interpret and pronounce
easy to spell
easy to  remember
If you are building an online business, it's always a good idea to opt for a .com, rather than one of the other extensions, as a .com is a universally accepted business domain extension. Also, add the .net, .biz, .co.uk, .us and other domain extensions too, to avoid the possibility of someone hijacking those other domains and catching your spill over traffic.
Even in a highly competitive industry, you can think up original, appealing domain names for businesses by using naming tactics. If you're having difficulty choosing a domain name, think about the benefits that people get from buying your product or service and try to use them in your domain name.
Another way of choosing a domain name is to make a list of relevant keywords associated with your business and see if you can find ones that sound similar to your service or are connected to it. Use your imagination too. Consider including words like hey, wow, and buzz when you are trying to create a domain name.
Where To Start Choosing A Domain Name
The world's largest registrar for choosing a domain name and provider of website hosting is Go Daddy. For big savings, a long list of FREE extras and 24/7 service that's second-to-none, you can start choosing a domain name right away on their home page.