Christmas and Entrepreneurs
Christmas shapes the business year and for many entrepreneur businesses it is the deciding factor of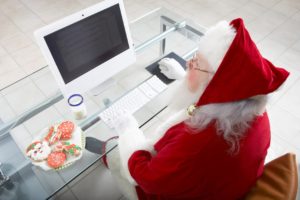 whether they're going to end up in a profit or loss. Of course Christmas is not just about sales – it's about connecting with the people and celebrating. But, Christmas and entrepreneurs have shaped some of our best loved traditions over the years.
Over the years, famous business entrepreneurs have made a lasting impression on our Christmas traditions.They have taken an idea, converted it into a product or service that people need, and created a business around it.
Here are a few examples of how Christmas and entrepreneurs have mixed and created some of our best loved festive traditions.
Santa
Every image of Santa shows him with a white beard and wearing his red suit. This image was created by those entrepreneur people at Coca-Cola back in 1930. They wanted to use the image of Santa Claus in their winter advertising campaign and chose to dress him in the official Coca Cola colours of red and white. When the campaign was over, this look become popular all over the world and has remained ever since.
Rudolph
The red-nosed reindeer was born in 1939 for the American retail enterprise Montgomery Ward. The company created the reindeer Christmas story to give to customers during the holiday season as a promotion for their stores. And that story is still popular today.
Christmas Cards
The earliest known designer of a Christmas card was Sir Henry Cole, the first director of the Victoria and Albert Museum in London. The growth of the printing industry in 1840 bought Christmas and entrepreneurs together and the popularity of sending cards at Christmas evolved into a major holiday industry.
Crackers
The Christmas cracker is a great story of the creativity and determination of UK entrepreneurs. Tom Smith, a confectioner's apprentice from London in the early 19th century, liked the French sugared almond bon-bons, wrapped in coloured tissue paper, and decided to introduce them in London. He worked for seven years to develop the bon-bon into something more exciting, until eventually, after watching his log fire crackle, he had the idea of a bon-bon that would make a pop. He made a coloured paper wrapper and put in it another strip of paper  mixed with chemicals that, when rubbed, created enough friction to produce a noise. He knew that bangs excited children and the mottoes and poems he inserted inside the crackers amused adults.
Christmas and Entrepreneurs In Modern Times
What about Christmas and entrepreneurs in modern times? Digital technology and online business are the real growth areas. Cyber Monday, the biggest online shopping day of the year, hit over $2 billion this year on Monday 2 December. That's a 20% increase over last year with significantly more purchases coming from mobile devices.
With shoppers becoming more comfortable when purchasing via mobiles and tablets, coupled with better connectivity and the rise of smartphones so people can browse online through the day, it's not surprising the way we shop has changed.
The Digital Economy is set to grow even more next year, not only for Christmas and entrepreneurs but for all online business owners. If you want to be part of this 'digital gold rush', check out this FREE 7 Day Digital Marketing Course.
Have a peaceful and happy Christmas!