Somebody's Watching Your Home Based Business
If you're running a home based business, you are probably doing everything you can to get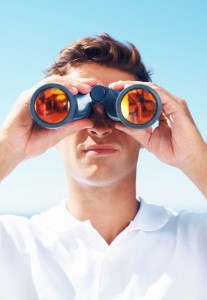 your products and services in front of potential customers. You're creating great content for your website, placing advertisements, building your social media profiles and such like. But it's not just your prospects that are seeing your messages. Your competitors are too.
Competition strikes fear in the hearts of new home based business owners and experienced business owners alike. Competition is a good thing. It means there are people scrambling to get a piece of a profit pie. If there's zero competition, then that's a sign that there's no pie at all – in other words, no profits.
Instead of being worried about competition, learn to become one of the competitors that others should be fearful of. This doesn't happen in an instant – it grows over time, and there's plenty of room for you to build a profitable home based business.

5 Ways To Manage Your Competition 
1. Know Who They Are
When you start a home based business you need to know who your competition are.  But even when you do know how your competitors operate, it doesn't stop there. The world changes and so too does your competition. It's important to stay abreast of their change. While it's not a good idea to stress about your competition, it is important to review them semi-annually or quarterly.
2. What's Your USP?
Every successful home based business will have a UPS. Your USP (Unique Selling Proposition) is often created with your competition in mind. You need to know what you do better or differently so you can offer value and benefit to your audience. What do you want your home based business to be known for in your niche? You need a slant. You're the one who is going to be creating a buzz about yourself in this niche, so you have to know what you want the conversation to be about.
Free Checklist & Toolkit: How To Choose Your Online Niche

3. Analyze and Evaluate 
Don't be scared of your competitors. Learn as much you can about them. What products or services do they have?  Look at every detail of how they conduct business. Now how could you do it better or different? If there are virtually no videos by these people, then get your home based business on YouTube. Making videos is not as scary as you may think. If they are not very active on a particular social media site, you could gain some traction on that using that site. Don't obsess about your competition. However, it is wise to create an analysis strategy to review your competition and update your analysis.
4. What Are Your Competitors' Primary Keywords? 
For an online home based business,  an easy way to find target keywords for your competitors is to see what Google thinks they are by using the interface to Google Keyword External tool. Follow these steps to discover keywords from competitor domains:
Access the keyword tool and log in.
Input your competitor's web address.
Review the listings, and scroll down to view all and see the collection of keywords including ad group ideas.
5. Follow Your Competition On Social Media
Do you receive alerts when your competitors publish new content? Do you subscribe to their blog, newsletter or follow their social media posts? Simple strategies can help you stay abreast of your competition. You can collect the information and review it when appropriate. Or you can review it as you learn about it. Often, your competition's actions and content on social media sites can be helpful to you. Their actions might inspire a new content idea, product or service.
High-profit, Low-competition Markets For Your Home Based Business
Rest assured that when you start a home based business your competition is watching you. You might return the favour. Create a plan to assess your competition and reassess your strategies and tactics. There's a lot to learn from the people that challenge you. Your competition may be the motivating force you need to take your business and website to the next level. Take advantage of automated technology to track their activities. Market Samurai will help you find those gold nugget opportunities that exist in your marketplace. Download your FREE copy of Market Samurai and laser-target high-traffic, high-profit, low-competition markets for your home based business with devastating accuracy.