Create A Membership Website
When you create a membership website, even on a small scale, it can earn a lot of money for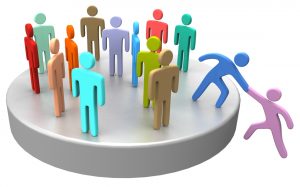 much less work than a single sale website. A membership site, or subscription based website, is a site that's password protected, and generally requires users to pay a monthly fee. Most membership websites are protected by special scripts that handle the managing of the usernames and passwords of members.
A membership site can pull in quite a bit of money for you and it doesn't require you to be there daily except to make sure things are running smoothly. You can create a membership website ahead of time that drip feeds to your customers when they sign up. Then you can spend the bulk of your work hours on marketing and promotion
Let's look at the reasons why you might want to create a membership website and how you can do it.
What Are The Benefits When You Create A Membership Website?
One huge benefit of subscription based websites is consistency of income. Traffic to websites is often inconsistent. If you're making money from AdSense or advertising, your income could go up or down by as much as 40% on any given month. That makes it very hard to plan a business.
On the other hand, if you create a membership website, income is guaranteed every month. Even if traffic drops off for a month or two, you still have income from your past subscribers.
The Snowball Effect
Membership websites also benefit from the "snowball effect." Instead of just getting sales, you're getting subscribers that pay you every month. That means that as time passes, your monthly income is guaranteed to continue increasing as long as you keep getting traffic -even if your traffic numbers don't increase! Where other webmasters might feel like their earning power is capped, yours will keep growing simply because of your business model.
3 Key Ingredients For Creating A Subscription Website
Trust. People need to know who you are or who your company is. It helps a lot to build a reputation in your space. Getting someone to pay for something every month is a lot harder than getting a single sale. Trust is a crucial component to making the sale.
 Unique Content. What are you promising that's worth paying for every month? Make sure that whatever you're selling, you really offer something that your customers will find valuable.
A Good Sales Pitch. Have a great sales page that explains all the benefits of being a member and why they should join.
Getting Started
What you have to do first when you start to create a membership website is figure out if you have an audience that's willing to pay well for access to your site. If you're thinking about starting a membership website in a particular niche but can't find other sites in the same niche, that can be a warning sign. Though it's not always the case, not having competition in a niche could mean that the audience isn't interested enough in your idea.
But it can also be a sign that your niche is too narrow. If you broaden your niche and find membership sites, then you've found your market. When you have a niche in mind, you'll want to look at other successful membership sites.
FREE Checklist: How To Build A Membership Website

Check Out Your Competitors 
Considering joining some competitor sites if possible. This will enable to see what your competitors are offering and how your membership website will compare. Knowing what works well in your niche can position your site for success. The next thing you need to do is decide how you're going to build your membership site.
Build A WordPress Membership Site
You can build a membership site by using software like WordPress and a membership site software plugin like S2 Membership. This will help keep your costs down, especially in the beginning. Process your payments using a processor that can handle recurring payments. These include PayPal, ClickBank, 1ShoppingCart and Authorize.net.
Don't forget that you'll have to consider your tech support. Since the back-end management is the toughest part when you create a membership website, you need to compile a list of trusted service providers. You want several providers that are capable of dealing with tech problems and can troubleshoot if something breaks down and you need help.
If you'd rather not deal with this hassle, then you could use membership management software like aMember Professional. This means that if something does break, you'll have a dedicated team that you can reach out to for help.
Start To Build A Team 
When you create a membership website and it starts to gather more members, you'll want to assemble a team of moderators. These should be people that support your vision and can help enforce member rules. You probably already have some followers who would make great moderators. Look for the people who always comment on your blog posts and that may already be involved in other communities. To make it worth their while, you can give moderators free membership and even throw in some perks from time to time.
Marketing Your Membership Website
You'll also need a marketing plan for your membership site. You have to continually grow it, bringing in new members in order to grow your income. Drive traffic to your website through SEO, PPC, social media or through various online communities. Convert people who land on your web page into subscribers through a compelling sales page. Then, as long as you're driving traffic and providing the monthly content, you'll generate income month in and month out.
Learn More On How To Create A Membership Website
The good news is, anyone can learn how to create a membership site and have recurring income coming in. You don't have to be a giant retailer or software company to create recurring revenue streams. Remember that it's so much easier to sell to an existing customer than to find new customers… and when those customers are on a billing plan, it simplifies everything. If you're ready to start earning an reliable monthly income, these step-by-step, live coaching sessions show how you to create a membership website from scratch using a proven social traffic system.