Create An Online Business That Will Stand Out In The Crowd
Over 500 new websites are launched online every minute so when you create an online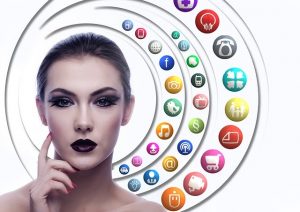 business what can you do to get noticed? Before starting a business online it's important to take a step back and create a solid plan. Many businesses just put a website up and then hope that the visitors will just come. But unfortunately, they don't.
If your website and online business is just like every other one in your niche and potential customers can see no real difference between buying from you or one of your competitors, then your online business is going to struggle.
People are more willing to buy from a business that they feel they know, like and trust. When you create an online business your audience needs to feel that it's accessible to them and their needs. So how can you do this?
Create An Online Business That Gets You Noticed Before Your Competition
Start a Blog
When you create an online business a blog is a great way for your business to add personality to your brand. A blog is a way of publishing regular updates to your website about your business, industry or related subjects. They can be in the form of written text, videos, podcasts, audio files, infographics – in fact anything that provides information that your audience will find interesting or useful.
A blog plays a key role in educating prospects so that they become future customers. Many of your most qualified leads, whether you know who they are or not, will read your blog at some time or another. It will also help to improve your website rankings in the search engine results. The more often you post, the more often the search engine spiders will visit your website. Your blog will begin to attract traffic to your website which, in turn, will help you to stand out in a crowded marketplace.
Social Networking
Social media also allows people easy access to you when you create an online business. Social media websites are starting to become even more popular than traditional search engines, so they can be a massive source of traffic for your website.
Social media allows you to reach people at a more personal level. Your content can be more laid back than those on a blog, but it is still important to maintain a professional business image. Social media allows you to build your brand reputation, generate customer engagement and deliver a better customer experience by connecting with your customers. When you connect with people and they connect with you, they are more likely to follow your brand and all it has to offer.
Build A List
One of the most important elements to work on when you create an online business is your list building strategy. This is the where people give you their email address and their permission to email them with information about your products and services. It's very important to research all email related rules and regulations so that your business doesn't get into any trouble for spamming.
Your emails should be highly targeted to your customers' needs. They are designed to build a relationship with a customer so that they don't forget that you exist and see you as a trusted authority in your niche.
Easy To Use Website 
Creating a website for your business is not the complicated process that it once was. There are many user friendly platforms available to build a business website that do not require high levels of technical skills. But that's not to say that you can ignore the key elements of good website design.
Your website should be easy to navigate, use appropriate content and images and be clear on how your business can benefit your customers. Don't forget that people look at websites on a wide range of devices from mobiles, to tablets to desktop computer monitors. So make sure that your website has a responsive design that provides an optimal viewing experience.
Create An Online Business With These Proven Steps
When starting a business online it's vital to have a solid plan for your online presence. Customers are evolving and they want to do business with someone who they know, like and trust. Businesses that ignore this fact will lose their market share to those businesses that really connect with their audience. This free 'crash course' on How To Do Business Online, that is specifically aimed at helping individuals who want to create an online business with the proven steps to connect with a target audience, regardless of the industry or niche.