What Is Good Online Content?
As an online business owner you're called on to manage a variety of tasks and one of the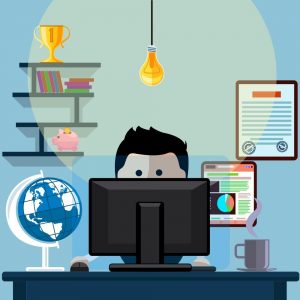 most challenging is creating good online content. Content can be read, watched, listened to and shared. It can be an article, a blog post, a report, an ebook, an online course, a video or an audio. Without good online content your website has no value to your audience.
Many people fear writing or put it off because they don't consider themselves to be writers. But the majority of websites with good content are not produced by professional writers. They are created by online entrepreneurs who understand what makes good content and how they can use it to engage with their online audience.
5 Handy Tips For Creating Good Online Content
1. The Difference Between Offline and Online
There's a difference between content published in newspapers and some magazines and content published on most websites. The content on your website doesn't need to appeal to a broad audience. It also doesn't need to be on a broad topic. Quite the opposite, actually. Your content will be quite specific. Writing for an online audience isn't the same as writing for print publications. Yes, good grammar and spelling help make sure that your content actually makes sense! However, many other traditional rules of writing are meant to be broken online.
2. Short Paragraphs
When people read online they don't want big paragraphs. They want short sections that are easy to scan. Good online content is broken down into shorter paragraphs. This way, you don't overwhelm visitors with giant blocks of text. When you keep your paragraphs short, your reader will be able to better pay attention to what you have written, and will easily be able to skip from section to section.
3. Subheadings and Bullets
Following on from the point above, subheading and bullet points also go one step further to make your content easy to read on a screen. Subheadings give your reader a general idea of what the upcoming content is about, which can help keep people's interest for longer. Bullet points are short and to the point, providing key information in a straightforward manner.
4. Use Images
Times have changed and people expect text to include images these days. Not only do they help make your website look nicer, and make articles easier to scan, images also enhance  your brand. The good news is that you don't need to take all of the photographs yourself! Although personal photographs are a great touch for personal blogs, you can also find lots of high quality images for free on various stock photo websites.
5. Tone
If you are writing informal content, then keep your tone light, casual, and funny. Web content is more conversational. Content is written to feel personal as if you're speaking to your audience. Write in first and second person to keep your audience entertained and feeling as though you're writing for them personally. Of course, there are some situations where this rule does not apply, for example, if you're writing for a professional or technical website. However, in most cases, developing an informal tone that shows off your personality is a great way to connect with your readers and help make your content more readable.
FREE REPORT: How To Write Content For An Online Audience

How To Write Good Content For Your Website
As mentioned above, good online content is formatted for easy reading. You'll use bullet points, numbers and headings and subheadings to break up your content into bite-sized pieces.
It means that writing content for your website is pretty straightforward. You write what you know and what your audience will benefit from.  The simplest method to use when you're writing your online content is to spend a few minutes creating the structure for your article or blog. Write a rough headline and subheadings. Then fill in the content. Write it as if you're writing a letter to a friend. Don't worry about grammar and spelling on the first draft. You can go back and edit for clarity later.
Once you have your thoughts down on paper, polish. Add your keywords in to optimize for the search engines and publish it. Test and track your articles and content to evaluate the content that works and which your readers respond to. With a little confidence and a plan, you can write content to build and grow your online business.
A Valuable Resource For Good Online Content
Every onlne business needs content. But creating content for a website can take a lot of time and hiring a professional writer is often too expensive for many online entrepreneurs. That's where Private Label Rights (PLR) content can help. PLR makes creating great content easy because you get high quality pre-written articles, blog posts, reports and more. It's an invaluable asset and saves you a ton of time in research and saves on the expense of hiring a writer. If you want good online content for your website, claim your free starter pack of PLR Reports, Articles and Videos that you can edit and use in any way you want and even put your name as the author.