14 Ways To Build A Customer Relationship Online
The internet can be an impersonal business environment but when a business creates a solid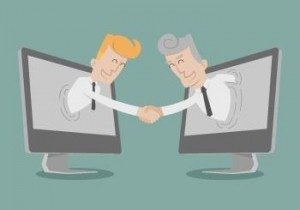 customer relationship online they set themselves up for loyalty that can last for years. Even better than that, a real connection means that your customers will turn into raving fans who happily share your website and product recommendations with others!
If you have your own online business or you're in the processes of building one, there are a number of specific ways available to you to build a customer relationship online. This, in turn, leads to increased sales and a thriving community built around you and your brand.
14 Ways To Build A Customer Relationship Online
There's an important fact for all marketers to remember.
You don't build your business, it's your customers who build your business.
Sounds kind of strange doesn't it? You're the one that set it all up, you're the one that works hard to make it a success, so how can it not be you that builds the business? But try running your business without a single customer. Your business would dry up like a drop of water in the desert at high noon. Customer first, business second.
The following handy, easy-to-follow checklist makes building a customer relationship online easy for both experienced and new online business owners.
1. Stop Publishing Garbage
Everything you do online is attached to your name and brand, so protect yourself by
always creating epic content. You should never, ever publish a blog post just so you can publish a blog post. It is better to release 1 epic blog post of 2,000 words every month, rather than releasing 5 posts each month which are 400 words in length, and offer very little or no value to your readers. You'll improve your customer relationship online by always making sure that every communication to your audience is of extremely high quality, and helps them to solve some problem or make their life easier.
2. Start A Podcast
A podcast is like a radio broadcast. It's a digital audio file that can be downloaded to a computer or a smart phone. Podcast episodes are typically recorded as a series with new installments which can be received by subscribers automatically. Audio connects with your audience in a way that text-based content simply cannot. One of the most common podcast subscribing tools is iTunes.
3. Harness The Power Of Video
YouTube is the world's second-largest Internet search engine because people are naturally drawn to video. Videos are a great way to build your customer relationship online. They are simple to make and show that you're a real person. Videos help to transform static, traditional online content into action-driven messages that project your message in a powerful, dramatic way.
4. Publish High Quality Content That Provides Value
Look at your niche. Check out the websites of the top 10 or 20 search results for the main keyword you are targeting. What do those sites and blogs look like? How do they "feel", and how do they attempt to connect with your target audience? Make sure that every piece of content you publish provides value to your audience.
5. Speak To A Single Person Online, Not A Group
Your market is filled with individuals. As part of your online customer relationship management process, every piece of content you create should speak to an individual person. You have a target audience. Stick to that audience. This gives you a great chance of making a personal connection. Sure, you are not writing to just one person. Hopefully you will have thousands or many thousands of people show up on your blog on a regular basis. However, each one of those people is an individual. They are reading your content or watching your video as a single human being.
6. Discover Your Avatar
Think of one individual that perfectly represents your ideal prospect or customer. Market, communicate and write to that one individual as a single person.  Who is that the "perfect" prospect that you are attempting to reach. Dig down deep to find their desires, emotions, demographics and other physical and mental personality traits.
7. Stay Relevant
Your blog or website should always be relevant to a very specific and narrow niche or
marketplace. Download Market Samurai (it's free). This software helps you to pick out the keywords and phrases That are relevant to your target market. Only 10% of all marketers are using keywords that bring any real level of traffic. The other 90% are using keywords that are inadequate for the job.
8. Be Everywhere
This is a favorite saying of successful blogger, podcaster and author Pat Flynn. Be active as many places on the internet as you can. It's not all about social media. There are 13 other ideas on this page alone!
9. Give Away Amazing Free Stuff
Consistently give away the highest quality content, and you will never have a problem connecting with the people in your marketplace. The important thing about a freebie is that it should be useful, valuable and of the same quality as the products or services that you sell to your audience.
10. Deliver "Only Found Here" Content And Information
People will flock to you when you consistently offer valuable and unique insights not delivered by your competition. You are your key customer relationship management tool. There is only 1 you in the universe. Even if you think you are "normal" or "average", you are uniquely different from every other man, woman and child on the planet. Address what makes you unique in your blog. If you cannot find some unique quality or trait you possess, create a unique slant or approach to everything you do concerning your blog.
11. Add A Little Humor (But Not Too Much)
Just about everyone likes a good chuckle now and again. However, joking and acting the fool all the time can make you look unprofessional and unsubstantial.
12. Build A Community
You can boost your customer relationship online with a Facebook page and/or an on-site group or forum. This creates a sense of community makes people want to connect with you and others like you. Don't try to be something you are not. Be who you are. Communicate the way you do with your friends. Talk about the things that interest you. Believe it or not, there are a lot of people out there who connect with who you are. You can't make that connection if you are not honest about your personality, likes, dislikes and other personality traits.
13. Be Consistent
In most relationships, the squeaky wheel gets the most oil. When you are consistently and
persistently putting out great content and connecting with your audience, your steady efforts will pay off.
14. Ask Your Audience What They Want
Ask the people in your niche what they want, then give it to them. It's easy to build quality connections and relationships when you answer the direct needs of your marketplace.
Create Your Ideal Buyer Persona (Free Tool)
Your business marketing will improve the more you know about the people in your marketplace. A buying persona is a semi-fictional representation of your ideal customer, based on market research and real data about your existing customers. Learning about your ideal customer, their challenges, goals, wants, needs etc, helps you to set a strategy aimed at attracting the most valuable leads, prospects and customers to your business. Fill out this free leads to increased sales that you can use to market, sell and serve better.