Online Business Website Design
When you start an online business the temptation can be to get your website built as quickly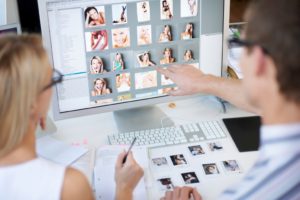 as possible to get it online and working for you. Obviously the quality of your products and services, your content and how you drive traffic to your online business website is important. But the actual design also has a significant role to play in the overall the effectiveness of your website.
How well does your website convey your brand and does it project the emotions you want it to project? Here are 4 major ways design can impact your online business website.
1. Search Engine Optimization (SEO)
A few years ago, good website design didn't much matter for SEO purposes. Google would look at your website content and decide how to rank you the search engine listings. Google still looks for these elements but they now also use machine learning algorithms to identify design traits that high quality websites have in common. This includes easy to use navigation, clear page layout, good use of images and quick loading times.
2. Website Metrics
When you start an online business and visitors to your website see it as a professional business, they are more likely to stay on the website longer than if the website looks shabby, disorganized and amateurish. This is why good website design effects you website metrics (eg, your bounce rate, your return rate, your average time on site, etc.). The better your website metrics, the more likely you are to rank highly in Google.
3. Generating Traffic
Generating traffic to your website involves getting new traffic and getting people to come back to your website after their first visit. If you have good design, people are much more likely to want to return to your website. People visit websites that they feel a strong connection to. When you start an online business, your visitors need to feel that the information on your website is credible and that you have put time, care and attention into creating your business.
4. Backlink Strategy 
Good website design helps build backlinks. If you have a poorly designed website, not many people will want to link to it from their website. Having good design helps increase your credibility. Websites with a lot of relevant backlinks will be looked on favorably by the search engines.
The Right Way To Start An Online Business
Starting a small internet business is much more than just setting up a website and then sitting back waiting for the customers to come rolling in. It can be a frustrating journey and very few individuals have built a successful online business website with any help or guidance. To learn how you can start an online business with the right tools and resources, check out this FREE Online Business Webcast from the world's first digital marketing academy, specifically created to teach entrepreneurs how to leverage the power of the internet.