What Do's And Don'ts Of Social Media Are Important To Your Online Business?
Just like any other form of business communication, there are several do's and don'ts of social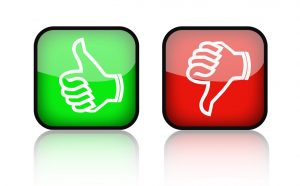 media.  Social media lets your online business to connect with your target audience, increase your exposure, generate leads and bring in sales. Most individuals and businesses are connected to at least one social media site.  And, as social media is all about sharing, your posts, tweets or updates can reach a much wider audience than just the people who are directly connected to you.
There are numerous stories of how different businesses have posted to social media in frustration or anger only for it to cause a storm of protest and bad feeling about that business. Let's take a look at some of the basic do's and don'ts of social media.
The Do's And Don'ts Of Social Media
Think of social media like you would any other business event where you meet other professionals in your line of work and existing, former or prospective customers. How you behave at a business event is pretty much how you should on social media. It's a mix of friendly chat, brainstorming and business. It's wise to remember that words spoken (in this case typed) in anger or frustration are publicly visible on the social network in question.
Never Allow Yourself To Show Negativity
By following this simple rule when using social media, you will achieve a much higher level of networking than if you were to gripe and moan about every little niggle, setback or perceived slant you encounter online. Remember too, that words can be misconstrued and that's why someone with great wisdom invented those little emojis that make updates so much fun.
The precautionary rules don't stop at being positive. Avoid gossip like the plague. No one wants to do business with someone they can't trust. If you earn a reputation as a gossip the chances are you'll never find worthwhile business partners or customers.
Don't Complain About Your Competitors
Do your competitors think about the do's and don'ts of social media? Steer clear from ranting about competitors in a public space. And don't do the opposite either. No one will respect a self-appointed fanboy (or fangirl) who just hangs out at their profile page like it's the lap of God.
So, make sure you remain upbeat, positive and ready to connect with other users. But who should you connect with? Luckily, online it's a lot easier to figure out who has influence than it is in real life. Rolexes can be faked, tuxedos can be hired for one night only, but true online statistics don't lie.
Free Checklist & Report: How To Profit With Facebook Groups

Do Connect With Influencers 
You want to determine who the influencers are in your industry for two reasons. Firstly, to get them to follow you back, and second, to connect with their followers. Before you find the top people in your industry, it's important to understand what keywords you will use to search for them. This applies context to your search. There's little point in connecting with indoor heating specialists if we you're an ice cream company. Context is everything.
Regardless of niche or platform, you can instantly spot the people who are serious because they always have a complete social media profile. Below are 6 websites which allow you measure your potential joint venture partners' sphere of influence so that you can figure out whether you are a good match for business.
6 Ways To Find Social Media Influencers 
Twitter.com: Search for your keywords and use the Riffle Chrome extension to view the number of followers each prospect has.
Buzzsumo.com: Search for your keyword and check the 'influencers' tab for the people whose posts have been shared the most for your keyword.
Klout.com: Explore your topic and the top influencers' Twitter accounts will appear down the side of the page to your right. You can even follow them without leaving Klout.
Wefollow.com: Simply search your interest and you will find the most prominent people on Twitter.
Followerwonk.com: This is another Twitter search engine. It shows those who have tweeted your keyword, how many tweets they have tweeted, how many people they follow, number of followers they have and a score of their social authority marked out of 100.
Circlecount.com allows you to see whether a person is active on Google+. You can find some great info here such as how many users are in the circles they share to. The higher the number, the higher the person's influence since more followers are likely to view that person's posts.
Social Media Outreach

Gathering your list of influencers is the first step, next comes outreach. You need to build a relationship with those people. This is what social media marketing is about. Building relationships, not constantly posting out "buy my stuff, buy my stuff" or trying to trick people into something they wouldn't normally want to be a part of.
Catch Attention On Social Media
Add value to the relationship. Don't try to create a friendship just to get something out of it. Do it to help other people. Doing so will demonstrate that you know your stuff. Be willing to help others out without being one of those people who will only ever do something if someone pays them.
Be creative. If an influencer doesn't understand something that you do, find imaginative ways to help them understand. You need to stand out in someone's mind to move from a name on the screen to a real person at the other end of an email or phone line.
Don't make it all about business. Try to find common ground with your prospect. Most of us take kindly to people who share our passions and if that means you both share a love of 1950s tin car toys, it engenders an "us against the world" instant camaraderie.
Respect other people's time. Just because someone has had a degree of success in their field doesn't mean they owe you a free consultation.
Enthusiasm is contagious. If you can be positive about your message and give more than you take, just as in real life, you will attract others to you on social media.
The Do's And Don't Of Social Media Marketing
These are just some of online  business social media do's and don'ts. It's estimated that one in four people use social media in some form or another. The biggest social media site is Facebook.  As time goes by, Facebook proves to be more important. You can use Facebook to drive traffic to your website, build awareness and attract prospective customers to your products and services. You're starting to see a widening gap of those who get it and those who don't.
A Facebook group can generate leads, build your email list, give you access to more prospects and sell your products and services. However, there is a right and wrong way to do it. Doing it the wrong way can lead to lasting damage to your brand. On the other hand, when you do it the right way by following the Facebook group best practices outlined in this Free Facebook Group Checklist it ensures that you have the best possible chance to make money from Facebook groups.