How To Drive Traffic From Social Media
If you want to successfully drive traffic from social media to your website then it's important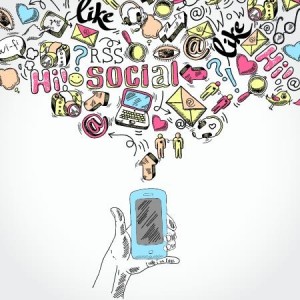 to use tactics that actually work.
It's imperative that you learn who your audience are before you even begin trying to attract them to your networks plus send them to your website. Otherwise, you're seriously wasting your time. People who aren't in your market don't want what you're selling.  When you know for sure who you want to visit your website you can ensure that your content and information is focused on that audience.
Social media traffic generation is a great way to market your online business. If you want to get more traffic to your website use this handy checklist to help.
5 Ways To Drive Traffic From Social Media To Your Website
1. Be Likable
Social media is social. Therefore, while automation using social media apps is awesome, it's not everything. Find time each day to go through your social accounts (maybe one per day) and look for questions that need answered. The more you can answer questions the more people will notice, trust you and want to check out your website.
If you're not sure what to say, ask an important question that needs to be answered. Give them some choices and make it easy to reply. Perhaps link to a form on your website for them to use to answer. When your audience feels listened to, understood, and thought about they'll be much more likely to click through and go to your website, sign up for your email lists, and become part of your inner circle.
2. Create A Plan of Action
Stick to a schedule. If you have no plan you may waste time. After all, there is no better time sucker than social media. If you want to be super productive, set up a schedule and stick to it for posting, sharing, and engaging.
Each social network has its own unspoken rules when it comes to how often you share a post. The trick is to share it in a different way. It can be the same link, but you can describe it differently in your blurb. Everything that you publish, no matter where, should be optimized. That means it should have the right words (ie, your keywords) that will grab the attention of your audience and motivate them to click on the link to your website. Each social media network has its own way to show content, so ensure that you understand the images sizes and the rules.
Free Checklist & Report: How To Profit With Facebook Groups

3. Follow The Cycle
When you drive traffic from social media there is a cycle to it all. So, try to do these things every single time.
Create Content for Your Website: Your website is the centre of your marketing. It's your business, it's your storefront, and your purpose here is to drive traffic from social media to your website. You need to make it a priority to create high quality, relevant content that speaks to your audience.
Share That Content to Social Media: When you post something on your blog, someone else's blog, or have any type of news about yourself, share it to social media. Optimize the share for each network and share as many times as is common with that network using a different text each time.
Share to Your Email List: Likewise, share the link to the post to your email database list. People who have signed up can be reminded about the content and they'll come back.
Engage with Comments: When you share things on social media and people comment on it, ensure that you comment back. You want your audience to know you're available and ready to interact with them. This builds trust, and due to that trust, they're more likely to click through to your website.
Repeat: Don't spam people, but you may want to repeat your social media posts more than once. Change it up a little to ensure that it works well for your goals. After all, not everyone will see your Tweet at 10am. You may need to send it at 10am, 2pm, and 6pm for maximum exposure.
When you do this for every bit of content that you create, you'll find that you build up more traffic to your website so that you can get them to convert to buyers and become your customer and not just your follower or friend.
4. Cross Promote Your Social Media Pages And Your Blog
There are opportunities to cross promote your website content and your social media posts so that the traffic runs both ways. Cross promote on multiple channels. You'll be glad you did. It's a great way to help expand your brand and reach without a lot of extra work.
Help Your Audience To Promote You:  There is a lot of technology that helps you automate some things. Help your audience automate how they can share throughout all your blog posts, articles, and other content. For example, you can add social share buttons to your website.
Create Groups: On LinkedIn and Facebook you can create your very own group that you are in charge of. This is a great way to build a loyal, social media audience that takes action on your content.
Collect Email Addresses:  On Facebook, you can create a way for your audience to sign up for your email list right from social media. Then, you can send them messages in email that send them back to your website.
Create a New Email Signature:  When you send out emails, there is a great opportunity to let your audience know about your social networks at the end of your message in the signature line.
5. Get People with Clout on Your Side
You've heard the phrase "It's not what you know, it's who you know." Well, perhaps that is an exaggeration but there is some truth in it. By bringing your social network to the attention of an influencer (or influencers), you can then get the attention of their audience, who of course should be the same type as your audience. This is a great way to give your social media networks a boost, which will help bring traffic to your website as long as you're linking to your website with new posts.
Interview Them: You can do a video or podcast of the interview and then share it on social media. You can also open up Q & A on a Facebook group with the video as the start of the conversation to get people to pay attention.
Call Them Out: This can be risky but if there's a guru that you really like, you can write about them in articles, blog posts, and social media posts. Tag them in the work. You may bring some of their audience to your page by doing this.
Take Pics With Them: Go to a live event, and take a selfie with them. Wait a bit and remind them before your next product launch about the fun you had by posting the picture. That way you get back on their radar.
Free Checklist: How To Profit From Facebook Groups
The incredible power of using Facebook to impact your business in a positive way simply cannot be overstated. A Facebook group can generate leads, build your email list, give you access to more prospects and sell your products and services. However, there is a right and wrong way to do it. Doing it the wrong way can lead to lasting damage to your brand. On the other hand, when you do it the right way by following the Facebook group best practices outlined in this Free Facebook Group Checklist it ensures that you have the best possible chance to drive traffic from social media.