What Are The Business Opportunities of Easter?
Easter is a huge keystone of the Christian calendar and it is also important for business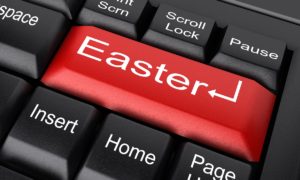 opportunities. It is not the big gift giving occasion that happens at Christmas but it's still a huge holiday for offline and online retailers that kicks off the spring buying season.
If you sell chocolate products Easter is obviously massive for business opportunities. The world's growing love of chocolate means that the demand for cocoa has increased and there are reports that cocoa farmers cannot grow sufficient supplies quick enough.
This does initially present business opportunities for the chocolate industry to raise prices as demand increases but, in the UK, the big supermarkets are in a price discount war over chocolate Easter eggs. In fact UK shoppers are facing an Easter egg shortage this week, after a high level of discounting by supermarkets means some shops have already run out of many products.
To cater for the demand, Easter eggs are produced for 8 months of the year.
Over 75% of yearly chocolate sales take place at Easter.
Over 80 million chocolate eggs are bought and consumed each year in the UK alone and the industry is worth some £200m.
Food, clothing, and hobby retailers will all benefit from Easter spending this year. As one of the biggest holidays of the year, there are business opportunities for offline and online retailers on everything from DIY and garden supplies to patio sets and grocery items.
In the current business economy, there is no question that enormous amounts of consumer spending is being moved from local shops to internet businesses and this has created an amazing business opportunities for entrepreneurs who want to set up their own online business.
Since 2007 there has been a massive shift of people buying goods and services on the internet and this is good news for people looking for online home based business opportunities. Online consumer spending is set to increase in 2014. Consumers are spending more time browsing and buying from smartphones and tablets, in addition to the hours they already devote to shopping on the internet via on laptop and desktop computers. That's translating into faster growth in online sales.
Your Online Business Opportunities 
There is no age limit or qualification requirements to becoming an internet entrepreneur. Anybody, regardless of their age, background, education or technical skills, can take advantage of the new digital economy that is thriving on the internet. The best online home business opportunities provide a solid business model, a clear direction, training and support.
To discover more about the world's first digital marketing academy for individuals, businesses, entrepreneurs and professionals, specifically aimed at helping them transition from the traditional economy to the business opportunities of digital economy, check out this FREE 7 Day Online Business Training Course.