Integrating Email Marketing Software With Social Media
Effective email list building strategies allow you to build your subscriber base and cross-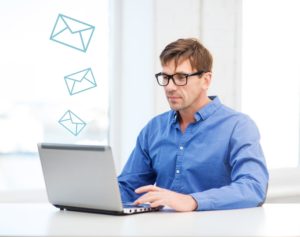 promote your business from different traffic sources. Email marketing is still considered by marketers around the world to be the best online marketing method, so it is vitally important for any online business owner to continually work at growing your email list of potential and actual customers.
If you combine that with the growing influence of social media, you can take advantage of both of these sources for even more traffic and audience engagement.
Here are 5 email list building tips for social media.
Use Your Social Networks 
Your social media works for email list building because it's a great place to introduce people to you and your business. You can tell people about a valuable report or video that you are giving away free. To get access to this, your audience can be given a link to your email sign-up page where they can access the free information in exchange for their email address.  All social networking websites have tools that allow users to share content they like. Facebook has 'likes', Twitter has 're-tweets', and Pinterest has 'repins'. Using these tools, people who like your the free information that you are giving away can spread the word to their followers.
The Facebook Sign-up Tab
To boost your email list building on Facebook, you can insert a custom tab below your cover photo that links to your email sign up form. The email marketing software provided by AWeber has an app that can easily be installed onto your Facebook page that links directly to your opt in form. Another option is to install the 'Static Iframe Tab' where you can customise an opt in page with Facebook. You can download it for free by searching for it on Facebook.
Using Your Blog
Don't forget that your blog is also part of your social profile and can be used as part of your email list building strategy. Insert an opt in form on your blog's sidebar that's visible on each post and page so that it gets as much exposure as possible. You can also consider placing opt in forms at the bottom of each post, or even in your header. Just like in your social networks, make sure that your offer or freebie is mentioned on your blog's opt-in form.
FREE REPORT: Write emails that get opened (& how often to send them)

Getting Subscribers To Social Media
To integrate your email list building strategies with social media, encourage your list members to connect with you on social media. One way to do this is to add social media buttons to your emails. These are buttons like Facebook's 'Like This' and Twitter's 'Tweet This.' Using these buttons, your readers can share your content with their followers which helps to spread your messages virally and access a wider audience. When good content is shared, new subscribers will opt into your list because they will want to receive more information from you directly.
Going Mobile
An increasing number of people read their emails and socialize online using mobile devices, so make sure that everything is mobile-friendly. Typing on mobiles is not as easy as using a regular keyboard, so make sure your email marketing software allows you to create opt in forms that are easy to fill out  and that your landing pages are optimized for mobile. Send emails in both text and HTML and always test any email templates that you are using.
Effective Email List Building Starts Here
Effective email list building starts with reliable email marketing software that makes it easy for you to build a targeted, permission-based list of potential and actual customers. Some email marketing services, such as AWeber, have social icons for networks like Facebook and Twitter that you can simply drag and drop into your emails. Then people can click on the icon to connect with you on those networks. AWeber is generally acknowledged to be the best bulk email marketing software available. Take a free trial at the official AWeber website to discover more effective email list building strategies.