Sending A Follow Up And Broadcast Email
Effective email marketing is only possible with an email autoresponder system.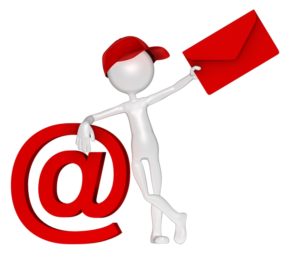 An autoresponder captures and manages the email information of your prospects and is a vital tool for staying in touch with your subscribers on a regular basis.
There are two ways you can stay in touch with your subscribers. You can set up a series of follow up emails that get sent out automatically over a set period of time once somebody has signed up to your list. Or, you can send out what's known as a broadcast email where a message is sent out to your entire list at the same time, regardless of when they signed up.
Let's take a look at how effective email marketing is achieved by using follow up emails and a broadcast email.
Sending Follow-Up Emails
Your follow-up email campaigns are a series of emails that you have already pre-written and loaded into your autoresponder. The are sent out automatically whenever somebody opts into your list.
Research shows that it takes at least 7 emails before most subscribers will act, and a successful email campaign will come from providing value and building a relationship with new subscribers as soon as possible. Start your follow-up email template with a friendly welcome message when somebody opts into your list. You want to thank the person for signing up. If you promised a free download, make sure you provide the download link right in the first email.
Sprinkle your regular follow up emails with some special perk emails. This could be a free report on a relevant subject or an invitation to an exclusive webinar. Don't just continually send out sales messages. Pre-load your autoresponder with a series of helpful emails that will create a desire for your subscribers to want to know more.
Sending A Broadcast Email
You have to build a relationship with your subscribers and by sending emails that are in 'real-time', about things that are happening now will enhance your success. You can do this with broadcast email software where you send out  a message to all your subscribers at the same time. Everyone will receive the same message whether they've been signed up to your list for days or years. This type of email message is particularly effective if you have some new product or service you want to let your customers know about, or if you're having a sale.
Important news can be blasted out in a broadcast email message. For example, if you discover something alarming that could have a detrimental effect on your target audience, it would be seen as a courtesy to rush the news to their inbox.
A broadcast email is often preferred by email marketers because a series of follow up emails have to be regularly monitored. If you have a follow up email that includes a link that goes bad, or even content that becomes irrelevant, and you have hundreds of follow ups in your queue, it can difficult to prune those from your communications.
If you use broadcast emails only, make sure you do set up at least one follow up email – your welcome message. You don't want someone to subscribe to a bimonthly email newsletter the day after yours goes out and have to wait two weeks before they ever hear from you. So send out a welcome follow up email and reiterate which days they will be hearing from you.
Start An Effective Email Marketing Strategy
Effective email marketing can be profitable for any business, no matter what kind of product or service you offer. The foundation for effective email marketing is managing a targeted, permission-based email list with reliable email autoresponder software. AWeber is generally acknowledged to be the best email marketing software available. You can easily import your existing customer database into AWeber without having to ask the people on your list to re-subscribe and its simple to integrate with your website, social media and RSS feeds. For a free trial of AWeber's effective email marketing software visit the Official AWeber Website.