Creating An Email Marketing Plan That Gets Results
If your online business doesn't have an effective email marketing plan then you're missing out on a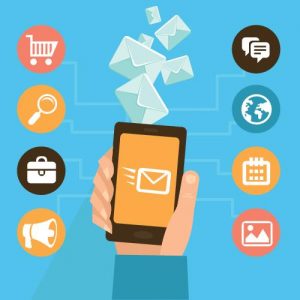 lot of potential sales. In a global survey of marketing professionals, email marketing was considered more effective than other marketing techniques. These included online ads, direct mail, content marketing, search engine optimization, social media marketing and events like trade shows or webinars.
When your business has a list of email addresses of people who are interested in your products or services, you can contact them when ever you want. You can take your products and services directly to them, rather than waiting for them to visit your website. But it does involve more than just blasting out any old email everyday. Here are 5 tips to help you build an effective email marketing plan.
5 Steps To An Effective Email Marketing Plan 
1. Produce A Working Marketing Funnel
An effective email marketing plan all starts with your marketing funnel. A marketing funnel is the process that a prospect will go through from the time they sign-up to your email list to the time when they purchase the product. When somebody joins your list it does not necessarily mean that they are ready to buy there and then. You need to set up a series of marketing emails that will build a relationship with your prospect. These emails will also reinforce the benefits of your product or service and why they should buy it from you.
2. Design Opt-In Pages and Sales Pages For Each Product
Every business needs to sell a range of related products so that they meet individual customer requirements. Don't rely on one generic email opt-in page to build your list. This also applies to your sales pages. Your emails will contain a link to your sales pages. Your email marketing plan is to get your readers to click on that link. Remember the focus on the sales page is on the audience, not on you. Tell your audience the benefits of purchasing the product. Pretend you are the customer and answer all the questions and concerns they might have right on the sales page.
FREE REPORT: Write emails that get opened (& how often to send them)

3. Have Appropriate Email Lists For Each Product
Using your autoresponder, create email database lists for each product or service that you offer. At the minimum you will want a general email list for people who visit the front page of your website and then two lists for each product you sell. Create one list for people who purchased the product. Your emails to this list will provide more information about using the product and offer other related products. The other list is for people who just want more info about the particular product. The emails to this list will be used to get to know like and trust you and talk about the benefits of your product. They will then be more likely to buy from you. Remember to name your lists appropriately so that you know where to put the messages based from where the audience joins your list.
4. Create Follow-Up Messages
Once somebody has joined your email list, you obviously need to email them. If you have promised them a free report or video in exchange for their email address, your new subscriber will want it pretty quick. They don't want to have to wait until you wake up or come back from holiday to receive it. This is why autoresponder software is so vital if you are going to create an effective email marketing plan. You can set up your autoreponder software to not only send an immediate reply to new subscribers, but also send a set of emails over a period of time. These follow-up messages will tell your prospect about the benefits of your product or service and will contain a link to your sales page.
5. Send Broadcast Emails 
Email follow-up messages are sent out automatically in a certain sequence, regardless of when somebody joins your list. Do check your follow-up messages regularly to ensure that your messages and links don't go out of date. But what if you want to send an email to your entire database, no matter when they joined your list? Remember that you will want to keep in contact with the customer who bought from you so that you can market future products and services to them. A broadcast email will send out to everyone on your list. It's an ideal way to tell them about special events, sales promotions or a new blog or article on your website.
Every Email Marketing Plan Starts With An Autoresponder 
Email marketing is effective because you're sending messages to people who are interested in your business and want to receive more information from you. As your email database grows, you will need to automate the process as it will become impossible to manage your database manually. A reliable email autoresponder can handle many more emails than you could ever process manually and allows you to get on with running your business. The system I use and recommend is called AWeber. It's simple to use, provides excellent customer support and training and provides everything for both large and small business email marketing. Take a free trail at the Official AWeber Website and see how easy it is to put your email marketing plan into action.