How To Build Your Email Subscriber List
Regardless of what industry, niche or market your business operates in, you need an email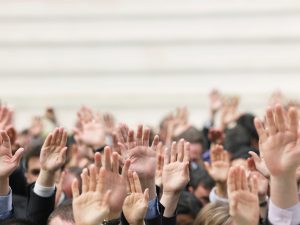 subscriber list. This is a list of people who have willingly given you their email address because they are interested in your products and services.
Marketers think of their email subscriber list as their 'goldmine'. An email list can generate the majority of sales revenue for a business. It's common knowledge that people like to buy from people they know, like and trust. By using email to directly connect with prospects, you can develop a relationship of familiarity and loyalty.
If you're not working on building your email subscriber list already, or you've run out of ideas on how to get more emails, here are 15 quick and easy ways to do it.
15 Ways Build Your Email Subscriber List
1.  Add An Email Opt-in Form To Every Page On Your Website
The simplest way to build your email subscriber is to include an email opt-in form on every page of your website. Then, no matter which page your website visitor lands on, they can opt-in. Make sure it stands out so it's easy to find. If it doesn't look cluttered, you may want to include more than one on some pages. For instance, if your opt-in form always appears in the top-right corner of your website, you may want to add one at the end of your most popular blog posts.
2. Offer Something Of Value For Free
Offer a free opt-in bonus for joining your subscriber list! Write an ebook or provide a PDF business report, or even hire a programmer to create downloadable or web-based software.
But don't limit yourself to offering gifts to opt-ins. Give them out when your subscribers fill out a survey you've sent them, provide you with a testimonial or tell you their success story.
3. Get Good Email Marketing Software
Email marketing software, often called an autoresponder, will help you grow your email subscriber list from day one. You can use to create your email opt-in forms, automatically deliver your free opt-in bonus when somebody joins your list, see which of your emails are getting opened and clicked, create newsletters, target different sections of your database, track your performance as well as collecting, managing, and segmenting your database.
4. Provide Useful, Relevant Content
Your visitors will not give you their email addresses just because they can subscribe to your newsletter free of charge. You have to provide unique and valuable information that will be of interest or use to them. This will keep your subscribers engaged with your brand. If they like what you send them, they may share it with their friends and colleagues who, in turn, may very well opt-in to you email list to receive your info directly.
5. Add Opt-in Forms To Your Social Media Pages
Make sure that you don't waste this valuable source of subscriber opportunities. Integrate your sign-up forms with Facebook, Twitter and more! When you post videos to YouTube
encourage people to subscribe to your list, and include links to a relevant squeeze page (see point #6 below) in your videos' text descriptions. It's also a way to get free Youtube subscribers.
FREE REPORT: Write emails that get opened (& how often to send them)

6. Publish A Squeeze Page 
A squeeze page has one goal – to acquire opt-ins and build your email subscriber list. Think of it as a mini-sales letter which is separate your website. Your squeeze should feature a strong headline and a couple of powerful benefits about your freebie to encourage people to opt-in. Don't have any other links on your squeeze page. Once created, use a service such as Market Samurai to find hundreds of targeted keywords, and promote your squeeze page using paid traffic.
7. Make It Easy For People To Sign Up

The more information you request, the fewer people will opt-in. In most cases, all you need is an email address. You can always get their name at a later date. If it's not necessary, don't include it here. You can always survey them once they're customers. I do recommend that you provide a link to your Privacy Policy however (see point #7 below).
8. Publish a Privacy Policy

Let your subscribers know that they can be confident you will not share their information with others. The easiest way to do this is to set up a Privacy Policy web page and provide the link to it below your opt-in form. If you don't have one, put the words 'privacy policy generator' into a search engine and you should be able to find a suitable form to use.
9. Ask Your Subscribers To Pass It On
If you get sent a funny or interesting email, don't you like to forward it to other people who you know will like it too? Word of mouth is a powerful viral technique to help build your email subscriber list. If your subscribers find your content interesting, amusing or informative, they won't mind if you ask them to pass it on to their friends.
10. Update Your Website Content Regularly 
The best way to update your website regularly is by writing a blog. Blogging is a great way to communicate with prospects and potential customers and drive traffic to your website. A blog creates a good synergy with your email marketing. Be sure to include your email opt-in form on each page of your blog.
11. Post On Other Blogs And Forums
Post thoughtful comments and information on blogs and forums related to your industry. In most cases, your comments will be posted with a link back to your site. If people like your comments and see that you're proving valuable information, they'll check out your website. And when they visit your website, they will see that they can directly get more information from you by entering their email address into your email opt-in box  (see point #1 above). This is how to get blog subscribers too.
12. Use Offline Methods Too 
You don't just have to use the internet to  build your email subscriber list. You can collect email addresses at networking events and trade shows and import them into your database. Be sure to ask people first if you can add them to your database. Remember to tell them that you'll send them something for free too! (see point #2 above). Also it's a good idea to send these contacts a welcome email that confirms their opt-in to your list.
13. Let Others Reprint Your Articles And Blogs 
Many online newsletter and ezine publishers are actively looking for high-quality content and, if they reprint your articles or blogs , you'll get new subscribers, and more traffic and links pointing to your website.
14. Include An Opt-in Button On Your Newsletter
If you send out a regular newsletter to your email subscribers, you may feel that this isn't required because the subscriber is already on your list. But remember that readers will forward your newsletters to others, or reprint them online. Make it easy for those readers who are not on your list to subscribe!
15. Include Testimonials On Your Website
Don't expect all your prospects to just take your word on the benefits of joining your email list.  Ask your existing subscribers for testimonials about the value you provide. These can be in any format but you may find that multimedia (audio or video) works best and inspires more people to action. Add a note inviting others to participate. After all, it's free publicity!
Build Your Email Subscriber List With Confidence 
When you communicate through email, you can build a loyal audience of people who truly want to hear from you. To send your emails you need a reliable, and easy way to integrate your email marketing with your business. Over 120, 000 small businesses, non-profits and entrepreneurs around the world trust their email marketing with AWeber. It's a leading web-based email marketing service where you can quickly import your existing customer database so that sending emails and creating email opt-in forms is a quick and easy process. Take a free trail at the Official AWeber Website and build your email subscriber list with confidence .