What Is Emotional Marketing?
Emotional marketing basically means that you use various words, colours and images to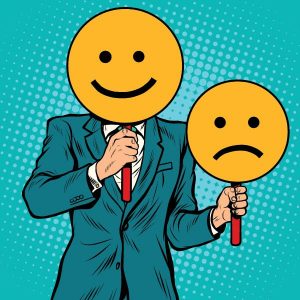 evoke certain emotions in your audience. There's an entire science involved in marketing that studies the effect of the colours, images and words and how they affect a prospective customer.
One of the ways a business builds its brand is to tug at the emotions of their audience. A business that has an emotional marketing strategy to communicate with its customers can build long-lasting, and mutually beneficial relationships that last for years.
Are You Using Emotional Marketing? 
There are 8 emotions that can be brought out by various words:
Sadness
Fear
Anger
Surprise
Disgust
Anticipation
 Joy
Trust
Feelings First
When engaging in emotional marketing, it's important to realize that feelings go first. People buy with their emotions and then justify that decision with logic. If you want more people to buy, make them feel something that leads them to buying what you're offering.
Emotional marketing is about building a relationship with a customer. When you've formed an attachment with the consumer, they'll stick with you for years – through price increases, trials and tribulations, and more.
How Can Emotional Marketing Build Relationships?
Each emotion has various stages and strengths that we tend to call other emotions. For example, joy, anger and anticipation can translate into passion. Feelings of anticipation and joy can be called optimism. The key is that each audience has their own trigger words that will evoke certain emotions, and those emotions will trigger various actions for that particular audience.
So how can you use emotional marketing to build relationships with your audience?
1. Show Them That You Know Them
The more research you do into the needs and fears of your target audience, the more your audience will be able to tell that you're interested in them and the more that they will trust you. When you show interest in them, it will make them interested in your business and you. When you discover something about your audience, let them know through your content and your actions.
2. Treat Them Right
So many times business owners have sales and special offers that focus on getting new clients. But what about the clients you already have? Keeping them is far more important than getting a new client, and less costly too. It costs 6 to 7 times more to get a new customer than keep an existing one.  Surprise your existing customers by doing something special for them. Give them a discount, or a special freebie, or something else that attaches them to you in a special way.
3. Be Transparent and Honest
One way to get your audience to trust you is to always be transparent and honest. If you make a mistake, own up to it. If you change your views on something, it's okay to admit it. Doing so will endear you to your audience and make you appear so much more trustworthy to them.
4. Put People before Numbers
While you do things to help promote your business, it's important to keep your morals and remember that people are more important than numbers. If you put people first in your business, including yourself, you'll find that you naturally improve your bottom line. The more people trust you, the more they'll buy from you.
FREE REPORT: How To Write Epic Blog Posts

5. Be Fun When Appropriate
No one wants to feel as if they're communicating with a robot or someone who is not real. Be funny and add a little joy into your communications when it's appropriate. This shows that you're human and a real person. Your humanness will shine through when you add some humor and fun to posts, emails, and even sales pages. This emotional marketing headline analyzer will help you when you're creating the titles for your blogs, articles, videos, social media posts, etc.
6. Be Responsive
Your customers expect to get an answer when they have a question or problem, and they expect it to be quickly. The waiting and anticipation for your reply can make all the difference if they stay with you or leave. Provide many different ways for your audience to contact you. Explain to your audience at each method how long they can expect to wait for a response. Then follow up and do what you said you'd do.
7. Engage with Your Audience
Find ways to engage with your audience. Ask for their advice or ideas when it comes to a new product or service you're going to launch. They can help name it, help define what should be in it, and even how much you should charge for it. Your audience can also be your best source of word-of-mouth marketing.
8. Consider The Communication Format
Also, it's important to try to get an understanding of how people communicate within their environment. Communication online in chat, instant message, Twitter, or a blog, is far different from communicating on the telephone or in person. Even email is different from other methods of communication. It's important that you determine what is different and then make up for that with the type of communication they're using.
Emotional Marketing Examples
John Lewis: The UK's upmarket department store has become renown for using emotional marketing in it's Christmas campaigns. This is the 2017 video:
Procter & Gamble: This award-winning ad elicits feelings of community, belonging, family and pride very well:
Netflix Commercial: This commercial makes you want to belong to the community of watchers and see the shows that only are on Netflix, due to the innovative, funny, and interesting shows.
What commercials can you find that evokes emotions in you? What about sales pages, or blog posts, or other types of advertising?
The Fastest Way To Create Emotional Marketing Messages
Any emotion that you can arouse in your audience will lead to more conversions. Videos are a vital tool in creating emotional marketing messages. They help you to quickly connect with your audience and build a relationship with them. You can now create professional high-quality videos faster and with less effort than ever before. Your audience's curiosity will be drawn to watch your videos to see what they're about. A lot of them are looking for advice on how to do something or how to make something work better and many more will be looking to buy a service or product.