Some Entrepreneur Business Ideas Have Changed The World Forever. Will Your Ideas Stand The Test Of Time?
There are many entrepreneur business ideas that have stood the test of time and shaped the way that we celebrate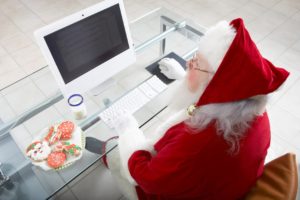 Christmas. From a small idea many great business ideas have been created. But of course Christmas is not just about business and profits  – it's about connecting with the people and celebrating.
If you're trying to come up with some new ideas for business, today's article reveals how entrepreneurs have spotted a problem and tried to solve it or how one simple idea can really change the way people think.
Let's take a look at 5 entrepreneur business ideas that were sparked by the festive season.
5 Famous Entrepreneur Business Ideas That Shaped Christmas
Santa's Suit 
Every image of Santa shows him with a white beard and wearing his red suit. This image was created by those entrepreneurial people at Coca-Cola back in 1930. They wanted to use the image of Santa Claus in their winter advertising campaign and chose to dress him in the official Coca Cola colours of red and white. When the campaign was over, this look become popular all over the world and has remained ever since.
Rudolph The Red-nosed Reindeer
Rudolph the red-nosed reindeer has become a much-loved Christmas icon and he dates back to 1939. The Chicago-based Montgomery Ward department store wanted to create a Christmas-themed story-poem to help bring holiday traffic into their store. An employee of the company, Robert May, wrote the story of Rudolph and almost 2.5 million copies of the story were sold. When it was reissued in 1946, the book sold over three and half million copies.
Robert May's brother-in-law, Johnny Marks, wrote the song "Rudolph the Red-Nosed Reindeer", and it was recorded by Gene Autry in 1949. The song sold two million copies that year, going on to become one of the best-selling songs of all time, second only to Bing Crosby's "White Christmas".
Sir Henry Cole, first director of London's Victoria and Albert Museum, is acknowledged with creating the first real Christmas card. In the Christmas season of 1843 Sir Henry found himself too busy to write individual Christmas greetings for his friends. So he hired artist John Calcott Horsley to illustrate a card for him showing a family enjoying Christmas festivities with the message "A Merry Christmas and a Happy New Year to You." As printing industry grew the popularity of sending cards at Christmas evolved into a major industry.
Christmas Crackers
One of my favorite Christmas entrepreneur business ideas is the story of the the Christmas cracker. Crackers are very popular in the UK and are short cardboard tubes wrapped in coloured paper. When pulled apart, they make a bang and a party hat, small gift and a festive joke fall out!
They were first made in 1845 by a London sweet maker called Tom Smith. He had tried selling sweets and small toy all wrapped up in pretty paper. But they didn't sell very well. But, after sitting in front of his log fire one night and seeing the sparks and cracks coming from the fire he thought what a fun idea it would be, if his sweets and toys could be opened with a crack when their fancy wrappers were pulled in half.
Christmas Trees
The first person to bring a Christmas tree into a house is said to be a 16th century German preacher called Martin Luther. He wanted something in his house after seeing the stars shining through the forest trees which reminded him of how Jesus left the stars of heaven to come to earth at Christmas.
He put candles on the tree to signify the stars but, over the years, as more people did the same, the candles were often became a fire hazard. It was Thomas Edison's entrepreneurial assistant, Edward Johnson, who came up with the idea of electric lights for Christmas trees in 1882.  And in 1930 the Addis Brush Company produced the first artificial Christmas tree made from brush bristles, that were originally used to make toilet brushes!
What About Your Entrepreneur Business Ideas?
Although online entrepreneur business ideas may not yet be steeped in festive tradition, you can't ignore the influence that the internet has made on businesses at this time of year. Over US$7 million was spent online this year in just five days between the US Thanksgiving holiday on 26 November through to Monday 30 November (known as Cyber Monday due the high volume of online transactions). This was an increase of 10% as compared to the same period in 2014.
The internet is a great start for new Ideas for business. Whether you create your own products, provide a service or have an entrepreneurial drive but have no products to sell, the online world is the place to be. Check out the proven steps for running a profitable online business and get your entrepreneur business ideas into action.