6 Steps To Creating Your Own Online Home Business
For many people, the idea of having their own online home business sounds great. It's a great way to fulfil your entrepreneurial ambitions and it's something that you can work on in your spare time to generate extra income. But all too often, when you come to sit in front of your computer you just don't know where to start. Plus, you have nothing to sell and you think that your computer knowledge is too limited to even try and start a home business online.
But, contrary to what you might think and regardless of your age, education, technical skills or qualifications there are no specific requirements if you want to start your own online home business. The fact that you found this article already shows that you have the basic skills to get started.
How To Start A Business Online In The Fastest Way Possible
1. Decide What You Want To Sell
The first step of starting an online home business is to decide what you want to sell. Ideally you want to sell a product or service that you already have some knowledge about or you are interested in. You don't have to be an expert about it but will naturally be more motivated to sell something that you know about or enjoy. Also, it does need to be something that people will want. It does not matter at this stage if there is a lot of competition for the product because it proves that there is a track record of people buying it.  If your potential market is too small, it may be too difficult to break into.
2. Find A Business That Has Already Created That Product
Now that you have a product or service in mind that you want to sell, you don't have to produce it yourself. Many businesses have what is known as affiliate programs. This is where you sell the product or service that a business has already produced. When you make a sale, the business pays you a commission. There are affiliate programs in just about every industry. There a physical products that get delivered to the customer's door and there are digital products that the customer can download instantly to their computer. What makes this so easy for starting an online home business is that, in addition to not having to actually produce a product yourself, the product owner sorts out the payment systems, delivery and customer queries. Your job is get potential customers to visit the product sales pages so that they can buy it.
3. Build A Website
This is often the part that can stops new entrepreneurs in their tracks. To start a home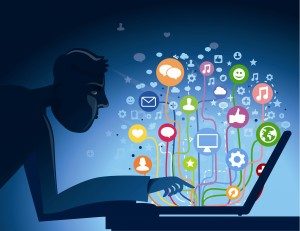 business online you need a website and that's really complicated – isn't it? Well, perhaps it once was, but now there is a whole variety of easy to use software with step by step instructions to help you get your home business onto the internet. Do remember that you are building a business and there will be some new skills that you will have to learn along the way but that is all part of your entrepreneurial journey. If you don't want to build a website yourself, you can outsource the whole project for a very reasonable cost via one of the outsource freelancing websites like Elance or oDesk.
4. Put Some Content On Your Website About The Products You Are Selling
Once your website is built, you need to get some good quality content on it about the products and services that you are selling. This means more than just hard-sell messages. You need to provide information that your potential customers will find useful. Remember that people use the internet to find information and the search engines what to direct their users to websites that provide exactly what the user is looking for. You will generally find that businesses with good quality affiliate programs will provide you with articles, posts, pictures, etc that you can use to promote your online home business. Within those posts you'll include links and advertisements to the sales pages of your products. These sales pages will have already been created for you by the product owner.
5. Drive Traffic To Your Website
Even if you have the best website in the world with best products for sale, if nobody knows that your online home business exists you're not going to have a business. Therefore it's important that you put a few strategies in place to drive prospective customers to your website. Free traffic works best when you have your own website. It can take a while to gain momentum, but when it starts it can generate a constant flow of traffic for years. The other option is to buy website traffic. The results are normally instant  but the traffic stops as soon as you stop paying. The best strategy is to use a combination of both free and paid methods.
6. Build A List
When you start a home business online and people start to visit your website, it is unlikely that they will buy from you on their first visit. You've gone to all the effort of getting people who are interested in your products or services to come to your website so you don't want to lose them now. To encourage your visitors to leave their email address so that you can build a list of prospective customers you need to offer them something of value for free. This could be a report, ebook or newsletter. Once the prospect is on your list, you can remain in contact with them via email marketing.
Free Blueprint To Start Your Own Online Home Business
The points above have given you a brief overview on how to start a home business online. You may want to consider learning more about the affiliate marketing business model. It's how many people have made their online home business ideas a reality. You don't have to worry about creating products, payment systems or organizing delivery. All you have to do is send traffic to an offer and then you get paid a commission when someone buys through your affiliate link. Check out this Free Online Home Business Blueprint that provides the step-by-step process for getting your own online home business started.