6 Ways To Find A Profitable Niche Online
It doesn't matter if your internet business sells products as an affiliate or if you produce your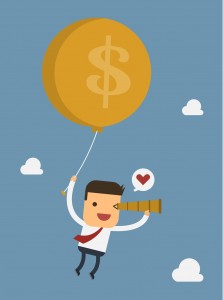 own products, every internet business owner wants to work in a profitable niche online. A niche is the specific market or industry that your online business focuses on.
For example, if you're in the health and fitness industry, you're niche may be weight loss for women over 40. The more specific your niche, the more targeted you can make your marketing messages and, ultimately, the more successful your online business will become.
So, let's say you have an amazing idea for a blog. You're certain that becoming an authority figure in this niche will be a cinch. You can see yourself being interviewed as an overnight success, and can't wait to get started. Even though you are virtually sure in your mind that you will be a success, is there some way to measure if your niche will be profitable?
The following 6 methods will help you discover the most profitable niches online to suit you and your audience.
How To Find A Profitable Niche Online
1. Is There Any Competition?
Too much competition can be a bad thing. If there are so many websites already entrenched in a market that is very competitive, it will be tough for you to be a success. However, no competition is a bad sign as well. Type your niche name into Google. Are there ads related to the search results? If there are, that's a good sign. That means companies are profitable enough to spend money advertising to your market.
2. Check Amazon
Amazon is the world's largest online retailer. Type a potential niche into the search engine at Amazon. Are there thousands of results, or less than 100? You may think you have a sure-fire idea for an authority blog or website. However, if the biggest retailing web presence doesn't show too many items for sale in your prospective niche, you should probably move on.
Free Checklist & Toolkit: How To Choose Your Online Niche

3. Shoot For The Sweet Spot
Download Market Samurai (it's free). This software shows you how to find profitable niches. It picks out the high traffic words and phrases and shows you the number of people that search for that keyword or phrase.  Only 10% of all marketers are using keywords that bring any real level of traffic. The other 90% are using keywords that are inadequate for the job. The software also shows trends which are helpful for marketers needing keywords for specific months – like for holiday promotions or products that are for a specific month in the year.
4.  Is It Trendy?
Some topics trend reliably at certain times every year. Some markets are poised to explode in popularity, while others may be popular now, but ready to fall flat. Checking your niche with Google Trends can reveal some surprisingly informative data regarding whether your niche is trending up or down.
5. Selling Information? Check Here
Merchant websites like JVZoo, Clickbank and CJ.com are just a few of the places that you can find profitable affiliate niches. If you plan on selling information products, checking to make sure that your market is healthy on those sites is imperative.
6.  Ask Technorati
Technorati is a blog aggregator. It is also free to use. Search for your niche topic at Technorati.com. If there are a healthy number of results, you are probably looking at a niche that is viable. There are multiple filters you can apply as well.
Find A Profitable Niche Online With Laser Targeted Accuracy
No business can sell to everyone. So you need to reach out to your ideal customers. Your target audience needs to coming to your website, reading your content and easily finding you online. If you want to find those gold nugget opportunities that exist in your marketplace download your free copy of Market Samurai. Use it to find a profitable niche online that has high-traffic, high-profit and low-competition and avoid those dead end projects before you even begin.