6 Tips For Free Website Traffic

If you have an online business you need website traffic. Website traffic is the number of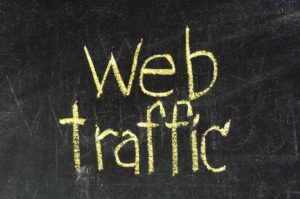 visitors your website receives and the pages they click on. Without traffic your online business will struggle to succeed.
Any website owner is always going to be looking for ways to increase website traffic. You can spend a great deal of money driving website traffic via advertising campaigns but, if you don't have the funds for paid traffic, you can also get visitors with free website traffic methods.
6 Ways You Can Get Free Website Traffic
1. Link With Other Websites
One of the most effective free website traffic tactics that can get you the best results is linking to and from other websites. It's easy to create a page on your website that contains links to other non-competing websites. Make sure that the website you are exchanging links with is relative your own business but is not in direct competition to you.  You will add their link to your links page, and they will link to your website in return.
2. Keywords and Content
Search engines will work as a free web traffic generator when you correctly include keywords in your content. Keywords are the words and phrases that an individual types into a search engine to look for information and facts. Keywords that are included within properly written, frequently published and appropriate content, are the most effective way to get to the top of the search engine results.
 3. Traffic Exchanges
There are many types of traffic exchanges available online where you team up with other online business owners and they send you traffic in exchange for you sending them traffic. A good starting point is Udimi Solo Ads.
4. Create Something Of Value That Will Be Passed Around
Giving away something for free has been a standard for building a customer list and the if the item includes a link to your website, it's a great way to get website traffic free. Remember that the free eBook, video, report, etc, must be relevant to your niche. It can also be some kind of unusual webpage which people will want to e-mail to their friends and that includes a link to your website.
5. Press Releases
Press releases are also sometimes called news releases. They're not advertising, but rather, a factual account, written in a third party, journalistic style. Because press releases are free, unlike paid for advertising, they're often more believable to your readers, even though you write both yourself! When it comes to posting options, you could could choose a free option like free-press-release.com

6.  Free Classified Advertising Websites
There are many places to publish free classified ads on the internet. Some of the more popular ones are Craigslist, Inetgiant and Gumtree.
Want More Free Website Traffic?
The most common issue that people have when they try to make money online is generating traffic. If you have no traffic going to your website or sales pages you won't get any customers and you won't make any money. Generating free website traffic is one thing but it needs to be targeted website traffic to turn it into profitable sales. Check out this video to discover how a few smart people are siphoning off millions of free website traffic from Facebook.