How To Build Your Email List
The easiest way to build your email list is to offer potential subscribers something for free in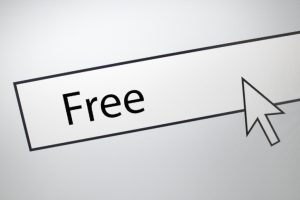 exchange for their email address. The important thing about a freebie is that it should be useful, valuable and of the same quality as the products or services that you sell to your audience.
If it's a lesser value, they may see it as an indication of the type of products or services that you actually sell and will be less inclined to consider buying from you. If you are serious about building a mailing list and getting more clients, your freebie needs to be the example of what your audience expects. Here are 8 ideas for freebies that you can create to build your email list.
8 Freebies That You Make To Build Your Email List
When you make your free gift, you don't want to produce something separately for each person who subscribes. That would be too difficult and take too long. You only want to produce it once, so that it can be used again and again. If you don't want to produce any of these yourself, it's simple to outsource the whole thing and then put your name on it.
1. EBooks
Ebooks are a very popular way to build your email list, especially if you use one that you normally sell so that it has a perceived value to your prospective subscriber. If it's something you normally sell on your website or elsewhere, then the visitor feels a lot of incentive to get the free item.
2. Software 
If you create any type of downloadable tools, software, plugins, or apps or have permission through private label rights to use them as freebie giveaways and it's something very useful for your audience, this is another really great free gift for building a mailing list. This works best if the freebie is something your audience can use in conjunction with your products or services.
3. Reports
A report is just a short eBook that is more focused on solving one problem, instead of an overall "how to" like an ebook would be. For example, if you had a website about weight loss, you could offer a free calorie count check sheet or food substitution list for your readers to use.
4. Coupons
People like getting discount coupons, so if you can offer your visitors a coupon code for signing up for your email list that is a great freebie to offer. Don't discount your products too much though, because that devalues what you do.
FREE Checklist: How To Write An Ebook

5. Videos
Offering a video tutorial or videos of a live event as a freebie is a great way to repurpose videos that you've made. Just load them up to deliver to the people who sign up for your list.
6. Checklists and Cheat Sheets
An awesome freebie to give your audience are checklists or cheat-sheets that you've created especially for them.
7. Charts  
Depending on your niche, there are all sorts of charts you can provide your audience.
8. Bundles
You can put together a compilation of all of the above to build your email list. A freebie, of say,  an ebook, video, cheat-sheet and coupon is a very enticing offer for new subscribers. This is a great way to give them an overall sampling of your products and services.
Build Your Email List With Confidence
Knowing how to create an email list and getting people to opt in and subscribe to your list is an important part of making your online business successful. The foundation for building a mailing list is having reliable email software to automate the process for you as your email database grows. Email marketing list builder software can automatically deliver your freebie to new subscribers and  follow up with a sequence of email messages to provide more information about your products or services. A leading provider of list building software is AWeber and you can test it for free at the Official AWeber Website. They also provide a wide range of free tutorials to help you build your email list.