5 Steps To Get Your Website Seen By Google (And Other Search Engines)
If you want to get your website seen by Google, and other search engines too, then you need think SEO. That's search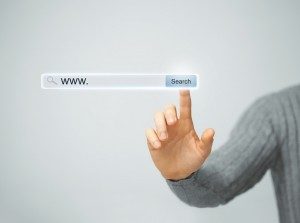 engine optimization. With the right SEO elements in place, Google will pick up you website and direct organic (unpaid) traffic to it.
Many people think that SEO is all about keywords. These are the words or phrases that somebody will type into Google. If they match the words on your website then Google will send you boatloads of traffic. But it doesn't work that way. Whilst keywords are important, there's a lot more to SEO than just keywords.
Sometimes getting things organized can be tough. Use this checklist below to improve your SEO and get your website seen by Google.
How To Get Your Website Seen By Google (Use This Checklist)
1. Your Website Architecture
It's important to have a good website architecture if you want to get your website seen by Google. If your page doesn't load fast, then even if people do click through to read your headlines and content, they'll lose patience and quit. How your website is arranged and whether or not your audience can find what they want on your page is imperative for good SEO.
2. Social Media
This is by far one of the most important SEO tactics. Using social media effectively can do wonders for your website traffic. People viewing and sharing your content on social media will register with the search engines. But, you have to come up with a good plan of action and see it through rather than just getting on social media and posting willy-nilly. Look at your social shares and find out who is sharing your content. You want to ensure that they're reputable and if they are, you can surely get more people to share it. But the biggest key to getting others to share is to ask them.
Use the social media sites that your audience uses
Share relevant content
Engage professionally
Publish regularly according to the networks norms
Measure to ensure it is working
3. Website Content
Anything you put on your website that provides and delivers  information to your audience is content. Posts, articles, memes, images, and graphics – all of it is content. Ensure you have a variety of different types of content to get your website seen by Google. Search engines like fresh content so you do want to publish new content onto your more often than once a month. However, don't compromise the quality of the information by trying to publish something new, say everyday, if it's just a lot of rubbish.
Develop purpose driven content
Use a variety of forms of content (text, video, audio, etc…)
Quality over quantity
Publish regularly
Include a all to action on your content
FREE REPORT: How To Write Content For An Online Audience

4. Do Your Research
Many people choose not to do keyword research. But if you do it, you'll waste less time creating content that doesn't get results and end up with more time to create real content that does get results. Using keywords within the first paragraph of your content, the title, subheadings and headings will all help to get your website seen by Google. Longer more in-depth content such as long blog posts, white papers, and articles as well as guides can help people and search engines know that your website is serious and that you are there to help your audience.
Know your keywords
What are your audience looking for?
Who are your competition?
What is your niche?
5. Website Technology
The other aspect of your SEO that will need attention is all the HTML code. If you use a good website platform like WordPress, this will be take care of for you for the most part, or it'll be easy to do it. Within the website, behind the scenes are meta codes. These bits of code tell search engines like Google what's inside. You'll be given an opportunity to fill out the meta descriptions if you use a good plugin like Yoast SEO to help you. Don't skip this as you create your website, it's important.
Use Keyword Tools: check out Market Samurai (it free)
Install Google analytics
Responsive: If your site isn't mobile friendly, Google is not going to keep listing it. To check if your website is mobile friendly, Click Here
Security: If you sell anything on your website, having secure HTTPS with an SSL certificate is important not just to people using the site but Google ranks secure sites higher than the others do. Ask your webhost for information about this.
Site Maps: Search engines need to crawl or 'see' your pages in order to index them. If the search engines can't do that, your info won't be listed on search pages. The best thing to do is create a site map so that the search engines can easily crawl and index your website.
4 Unbreakable SEO Rules To Get Your Website Seen By Google
It can be challenge trying to get website traffic for free from Google and the other search engines. Search engines keep their methods and ranking algorithms secret, to get credit for finding the most valuable search-results for their users and to deter spam pages from clogging those results. But, if you pay attention to your website SEO you will eventually get website traffic from the search engines. Unfortunately many online business owners fail to rank in search engines because they violate one of more of the 4 unbreakable rules of SEO. Download your FREE Copy of Market Samurai to discover these rules and get your website seen by Google.